If you want an ADT wireless security system, you have multiple options. ADT monitors wireless security systems made by DSC, Honeywell and GE. Each of these manufactures offer several different wireless control panels with various features and benefits.
A "wireless security system" should not be confused with a "cellular security system". By wireless we mean the security system has wireless security devices installed like door sensors, window sensors, motion sensors, key chain remotes, etc that communicate to the security system's control panel. A wireless security system's control panel is inside the keypad which also has the siren and battery backup built in. A cellular alarm system communicates to the ADT Central Station via cellular with a GSM module. There are wireless and hard wired security systems that use cellular communication to the ADT Central Monitoring Network.
Wireless security systems do not have the ability to connect hard wired security devices to the control panel (some wireless security systems do have one or two connections for a hardwire zone but are rarely ever used). An ADT Wireless Security System is the perfect solution for homeowners who do not have an existing hard wired system or a home pre-wired for a security system. A wireless security system gives your home and family the protection you desire without needlessly drilling holes with 6 foot drill bits throughout your home.
ADT Wireless Security System DSC Impassa SCW9057

The DSC Impassa SCW9057 is our most popular ADT wireless security system and certainly is one of the best wireless security systems on the market today. With added wireless security accessories the DSC 9057 is definitely a fantastic option for you to provide the safety and security for your family. The DSC 9057, also called the DSC Impassa, has GSM cellular built into the main keypad and has the ability to have two-way voice monitoring over cellular.
The newest model of the DSC Impassa SCW9057 will have the ability to be used as an ADT Pulse panel. This will make the DSC 9057 to be the ADT wireless security system of choice for about 80% of the ADT monitoring service options. This system is currently being used for the ADT CellGuard cellular monitoring package and the GSM cellular monitoring with two way voice. This security system provides you a superior level of protection at a very affordable price.
This wireless security system could be ripped off the wall and it would still communicate to the ADT Central Station Monitoring Network via the built in GSM cellular module. The DSC 9057 has a tamper switch on it so as soon as it is removed from the wall the siren goes off. The system has battery backup built in so it still maintains power and with a two way voice module the system would be talking to the burglar from the floor. This system truly provides superior protection from wireless security systems of the past.
Other ADT Wireless Security Systems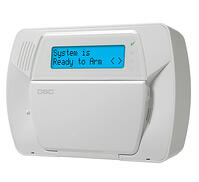 The DSC Powerseries SCW9047 used to be what we installed the most of until the DSC Impassa SCW9057 and cellular security systems became popular. The DSC Powerseries 9047 is still installed for people who what to have a wireless security system installed but want to go with standard dial up connection to save some money. The monitoring rate is a few dollars less a month and you save about $100 in the initial cost of installation. For most, it makes sense to upgrade to the DSC 9057 and get the security benefits of ADT CellGuard Monitoring.
Honeywell has the Lynx Plus which is currently the ADT wireless security system for ADT Pulse and Interactive Solutions monitoring. GE makes the Simon XT which was a very popular ADT monitored wireless security system.. Sense United Technologies acquired GE Security in 2010, the Simon XT is now being used less for ADT wireless security installations. The GE security systems are not going to be used for ADT Pulse. This will definitely start to further reduce the number of GE Security Systems used for ADT monitoring services.
For questions about ADT wireless security systems or find out more call 1-800-310-9490.