Security Cameras are a Great Compliment to Your Security System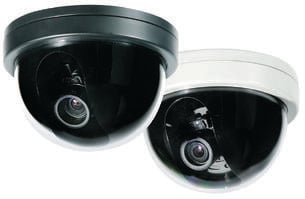 Security cameras are a fantastic addition to your home security or business security system and can assist in verification of alarm events. When combined with a monitored home security system you can have true peace of mind knowing your home, family and business are secure.
With mobile devices you can view what is going on at home from virtually anywhere. You can also check your iPad to see who is at the front door while your watching your favorite TV show from the comfort of your couch. In the event of a home alarm, check in to see what's happening. Is it a false alarm from one of the kids getting home from school or do you see burglars invading your home? Out to dinner, check in to see how the babysitter is coping with your kids. Maybe the babysitter needs a break from the "heathens" or just stay out late and tip well. With iPhones, Androids, Blackberries and other smart phone devices checking to see what's happening at home is right in the palm of your hand.
Choosing the Best Security Cameras
When people start to think about getting cameras for their home, the price of cameras is often one of the first questions they have. How Much? Well, for a 4 camera system installed with a DVR (Digital Video Recorder) you could pay as little as $1,000 or as much as $10,000. There is obviously a significant difference in price and of course the quality of cameras and video surveillance systems. Most often you can get a good quality 4 camera system installed for between $3,000 and $4,500.
We have installed the $1,200 to $1,500 4 camera packages in the past and have ended up replacing them with better quality equipment. Customers were unhappy with the video quality and we had way to many service calls on the cheap cameras. As the saying goes... "you get what you pay for". Although the inexpensive cameras do have their place, if you want a camera system to last for years without service issues then you'll need to invest around $3,500 to get 4 security cameras of good quality installed, with a DVR and ability to view off-site with Internet connectivity.
Quality Cameras will:
Compensate for back light issues
Capture a clear picture in very low light
Have a vari-focal lens so you can see the view you desire
Withstand outdoor elements, be waterproof and not fog or condensate inside the cameras
Be color and have high resolution
The DVR setup is also important as it will determine the quality of the video that is recorded, the frames per second, how many days or weeks of recorded video you will have and how user friendly the system is to use. Quality DVRs also record regardless of your Internet connection going down. Cheaper camera systems often use off-site recording via the Internet and you get very limited amount of recorded video for a monthly fee. Again, you get what you pay for.
However, for some video surveillance packages starting at $3,299 is just not affordable. Another less expensive option is our ADT Pulse HomeView monitoring package which gives you ADT Pulse Cameras at a very affordable price. These cameras are meant for secure real time viewing and record small video clips of predetermined events like emergency alarm events or anytime your alarm is armed or disarmed. The ADT Pulse Camera Packages do not record all the video and you must have ADT Pulse Tier II of Tier III monthly monitoring service to have ADT Pulse Cameras. These are a perfect video monitoring solution for some homeowners.
To learn more call 1-800-310-9490 or schedule a free home evaluation to have a security professional come out and help you design a security camera system that is right for you.