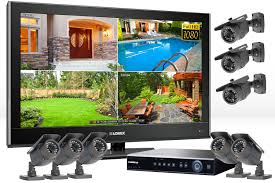 ADT is not only known for their home security systems but for security cameras as well. With everything that goes on in our everyday lives, we often wonder, "How can I better protect my family or business?" Have you ever thought how beneficial having ADT security cameras for your home or business would be? Well, here are a few MAJOR benefits of having ADT security cameras.
Home Security Cameras: 4 Major Benefits
1. Catching a crime
Knowing the society we live in now, we can only imagine the amount of crime that people have been able to catch on camera. We see countless shows on TV making us aware of the types of situations caught on camera. Now wouldn't having a surveillance system be helpful in your home, if and when something unfortunate were to happen? You would have a boat-load of information you can report versus the minimal information you might have without a security camera.
2. Keep an eye out on your kids
This one actually has a few perks. First, it's like having someone there to make sure your kids are doing what they need to do i.e. homework, chores, etc. At the same time, you can make sure that they're safe because most home invasions occur during the day when you're at work. An extra set of eyes for your home and your kids' safety is always worth the investment. ADT Pulse system cameras provide the ultimate home security and home surveillance. You can use your mobile device to not only arm and disarm the system but also watch your kids on camera to better insure their safety.
3. Seeing your visitors
Wouldn't it be convenient to see your visitor before you even open the front door? Sometimes you have to be a little cautious of visitors because you really don't know who they are. Is it really the carpet cleaners? Is it really the cable guy? Now, you will know. A front door camera is perfect to help you and your family see who is at your front door before you open it.
4. Watch over others in your home
Have you ever wondered if you can really trust your babysitter? Or trust a caregiver? ADT security cameras will be a great tool to have to ensure your child's safety or anyone needing care. Unfortunately, there have been numerous cases reported where there is child abuse or handicapped abuse involving the babysitter/caregiver. Knowing that bit of information should be enough to really think about installing cameras in your home.
Business Security Cameras: 4 Major Benefits
1. Shoplifting
Desperate times call for desperate measures and that means more shoplifting for retailers. More than $13 billion of merchandise is stolen every year! 1 out of every 11 people are shoplifting today. With numbers like this, we cannot operate a successful business. To help fix this problem, surveillance cameras will allow designated employees to see and properly stop a shoplifting incident from happening.
2. Employee Theft
Unfortunately, not all theft at businesses is due to others shoplifting. It can very well be an inside job. You will never know 100% of the time whether your staff is trustworthy or not. Knowing that, having ADT security cameras in areas like above the register or in the back room/stock room would be very beneficial in making sure employee theft is kept at a minimum if not at all. Also, it can be a convenient way of making sure the eyes in the sky are watching your employees doing their job, when you are unable to.
3. Armed Robbery
When we think of armed robbery we most often think of banks or financial institutions. However, banks only account for 1 out of 250 armed robberies. Insane right? That means all the other armed robberies take place at convenient stores, gas stations, small mom and pop shops and other small businesses. It's terrifying to think how and where they most often occur. Having an ADT surveillance system will certainly help deter robbers from pursuing your business. Why? Well you have to keep in mind that most of the time the robber will come in beforehand and scope the place out, which will result in them looking directly at the surveillance cameras. If that doesn't scare them off enough to not come back, then if an armed robbery were to take place at least they will have been caught on camera before the crime as well as during. That will definitely be beneficial in trying to catch this criminal before he strikes again.
4. Burglary
Often times we can confuse burglary with robbery. Above we discussed what an armed robbery is like. On the other hand burglary is someone trying to break into a property with the intent of stealing. It happens quite often and as a matter of fact, between 2012 to 2013 property crime such as burglary, theft and car theft rose 12%. Not a good look. With that said, you can see the importance of having ADT security cameras at your business. This is your bread and butter! It's probably what pays the bills and feeds your family, so really think about all the benefits a surveillance system can bring you.
The importance of having an ADT camera system for your home and business is tremendous. It is always easier to prevent than to have to fix the damage afterward. Don't wait until someone breaks into your home or points a gun at you while at work to realize it might have been prevented. Don't find yourself in a place of regret.
A poet, John Greenleaf Whittier once said, "Of all sad words of tongue or pen, the saddest are these, 'It might have been."
To find out more about ADT Pulse Cameras or ADT Surveillance Systems, please contact us by calling 1-800-310-9490.
Other Helpful Security Information and Links
ADT Pulse Business Security Systems