I bet social media isn't your first thought when you think of preventing crime. Social media, however, is already utilized by authorities, concerned citizens and law breakers alike and is helping put bad guys behind bars.
We all know social media is a big part of many people's lives. Just look at the stats:
I will just add to that, my 7 year old has asked for a Facebook profile already. Social media reaches so many people, it is no wonder authorities and citizens alike are using social media as a venue to knit communities together against crime.
Social Media and Law Breakers
We've established that for many, social media is a part of daily life. You'll find marriage proposals and famous people caught eating (Gasp!) and what crimes people committed last night... No joke. In 2011, 78% of criminal defendants had social media profiles. Many use no privacy setting and some are bold enough to share incriminating information on their profiles. Incriminating information that holds up in court. Check out these over shares:
Social media is paving the way for more tech savvy law breakers to lead law enforcement officers to right to them.
Community Police and Social Media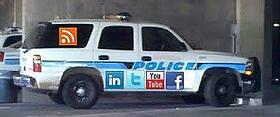 Not only are police using social media to catch bad guys, police departments are using social media to promote community interaction and safety. Here are some common ways to engage with your local police using social media:
Crime prevention tips-Find targeted tips that apply in seasons, such as identity theft tips near tax time or geographically targeted tips alerting a specific community to events happening there.
Supporting and promoting neighborhood watch groups-Social media allows for personal and day-to-day involvement in neighborhoods and can advertise the links and efforts of specific groups.
Find community events-Many communities offer free paper shredding days and events that officers attend to promote other community programs.
Crime prevention webchats, blogs and podcasts-Webchats offer busy officers and citizens opportunity for live interactions.
Oakland PD uses a Facebook page and Twitter to promote positive stories about OPD and its communities. They also try to post up to the minute comments during a crisis like with 2012's school shooting.
Sacramento and Los Angeles use social media to post videos of officers in the community, daily life of officers, and other information to promote understanding of how the organizations operate and interact with the citizens of each community.
Check out your local police station's social media. It's also a venue to ask questions and provide feed-back.
Citizens in Your Community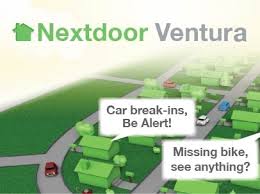 Finding time to organize a neighborhood watch isn't always realistic. Enter sites such as Nextdoor.com. Nextdoor could be the social media parallel to a neighborhood watch program. An officer could alert a specific neighborhood of a break-in or a resident can broadcast crimes and suspicious activities to the rest of the community. Read here about a Walnut Creek mom that used Nextdoor.com to share video of a burglary caught with security cameras. The community helped put the burglar behind bars.
Nixle.com is another community site used to keep communities informed. You register your address and choose from organizations that provide alerts for your area. You can choose to receive alerts from places such as your local police department, National Center for Missing & Exploited Children and local or national emergency centers.
How united a community is often indicates how successful crime prevention efforts will be for that area. Busy lives make social media sites that connect your community a great option.
Many citizens also opt for home security systems to protect individual homes in the community. Advertisement of your alarm with stickers and signs, makes your300 times less likely to be targeted for a break-in. However, a shocking number of burglaries happen through homes with systems that are not armed and doors and windows that are not locked. While thinking about community safety, remember to take the simple steps of closing and locking doors as you leave and activating your security system. Download your FREE GUIDE to Home Security and evaluate your safety.
Video monitoring has become a very affordable option too! For more information on adding a home security system or cameras to your home call us at 800-310-9490. We'll come out and give you a FREE In-Home Security Review of your property.
Related and Helpful Links:
Search "ADT (your city name) on this site and read a bit about your community and home security. Local twitter feeds are embedded so you can click and follow your police department's Twitter feed too.
Crime mapping-Offers maps of communities with icons to show reported crimes in your area and the result (if they led to arrest, etc)
My neighborhood update- You can type in your city and see the calls and reports made into the local police department in a given period of time.
Richmond PD uses Facebook for to fight prostitution.
Law enforcement and social media team up to fight crime.
Related Video:
ADT Pulse Video Catches Thief: A Walnut Creek homeowner catches thief on video and posts to social media resulting in community reporting the thiefs vehicle's location and the thief being aprehended.