ADT Pulse camera catches burglar on video and the Walnut Creek Police Department ends up catching the suspect. The combination of video from surveillance cameras and social media are helping to catch thieves and put them behind bars.
As a local security company, it is always great to hear when burglars are caught. Because security cameras have become so affordable with security systems like ADT Pulse, more and more homeowners are getting home security cameras installed. With the ability to spread the word through social media, the videos are now being used to catch the burglars.
When Andreas video was used to catch the suspect, it was just a reminder of how important it is to protect our homes and family. California Security Pro installed an ADT Pulse outdoor camera that is part of Andrea's ADT security monitoring service. This camera has a built in motion detector to start a recording of a 30 second video clip. The video clip can also be immediately text or emailed to the homeowner and the recording can be found on the ADT personalized web portal.
The ADT Pulse security system with cameras gives you the ability to see secure live video remotely from your smartphone, tablet or computer with an Internet connection. You may add up to 10 cameras total and there is an outdoor or indoor camera option. Most burglaries start at the front door, so having at least one camera installed at the front door is a great place to start. For more information read ADT Pulse Camera blog from California Security Pro's security library.
As a resident of Walnut Creek myself, this story caught my attention. Due to social media, the word spread and this story made the local news. In the last several months we have seen a lot of crime throughout the East Bay and a lot of activity up and down the 680 corridor. We have seen several burglars caught recently from Dublin, Danville, Alamo and Walnut Creek. We need to work together to protect our neighborhoods.
Andrea used Nextdoor.com to let her neighbors know what was happening. Nextdoor.com has a Crime and Safety section that lets neighbors inform each other of what suspicious or criminal acts are happening in the neighborhood. It takes neighborhood watch to the next level and gives neighborhoods a platform to communicate and create a safer neighborhood.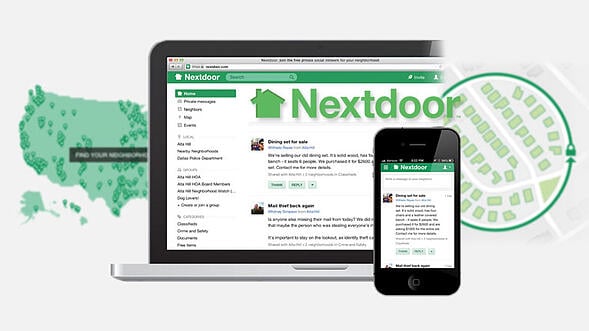 Take a look below of just a few the posts on Nextdoor.com that relate to this story.
---

On 8/6, a package was stolen from our door at 5:09PM. We have a camera and were able to tape the thief in action. Please see the video clip attached. Unfortunately they did not have a front license plat on the vehicle. Please be on the look out for a grey truck that looks like this and report any suspicious activity to the Walnut Creek Police. I filed a police report and they have this information on file to help prosecute them if they are found. This occurred on the intersection of Trotter and Livorna on the border of Walnut Creek.
Hi Everyone - I wanted to let you know that WCPD just called me and they have caught the thief. He was identified from the video. The video was posted all over social media and they got all kinds of calls. Thanks to everyone for helping find him. If we can continue to catch these kinds of crimes, it will reduce the burglaries in our neighborhoods. Thank you and a big thanks to WCPD!
Article on the story above on the Walnut Creek Patch.
Alamo burglar caught on home video surveillance: Walnut Creek Man Identified as Burglary Suspect - Watch Video.
Other news sites reporting on this story:
Home Security Camera System with ADT Pulse
To schedule a free in home security review of your home and find out what your best options are for home security cameras, call us to schedule your free home security review. Our Security Consultant will help guide you through your home security options and help you protect your home and family within your budget. Your system will be customized to meet your needs. Call 1-800-310-9490 for more information.