ADT Monitored Home Security System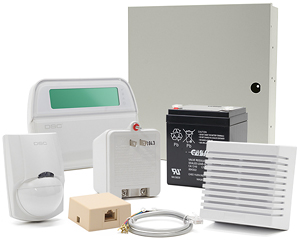 Some people feel that they live in a "safe neighborhood" and may not see the benefits for protecting their home and family with an ADT Monitored Home Security System. However, most of time they do not realize all of the benefits of owning a home security system.
10 Benefits of having an ADT Monitored Security System in Your Home.
The ADT security sign and window decals deter burglars from even attempting to breaking into your home. 9 out of 10 convicted burglars agree they'll simply pass a home with a security system.
When you have the security system armed to STAY MODE this will create perimeter protection for you while your home or sleeping. If someone breaks in the alarm will sound notifying you of a break-in and hopefully scare the burglar away.
If your out for dinner or at work and a burglar breaks in, the ADT Central Station we'll call you on your mobile phone and notify you of the alarm event. This can prevent you from coming home to a burglary in progress and entering into a very dangerous situation. This could save your life!
The security system keypad has emergency panic buttons for police, medical and fire emergencies. This is great for all family members and when a panic button is pushed the Central Station will call the local police, paramedics or fire department to respond to your emergency. See how that saved the lives of the France Family
You will have a list of Emergency Contacts you would like us to call in the event of a burglary, fire, medical emergency, carbon monoxide poisoning, flooding or police emergency. Know what's happening and have friends and family help in cases of an emergency.
Monitored fire protection notifies ADT Central Station in the event of a fire regardless of whether you're home or away. The central station operator will then call your local fire department to respond.
Save annually on your home owners insurance for having a monitored security system installed in your home. Savings are up to 20% annually but most are around 10% with burglary and fire monitoring.
With new technology you can be notified on your mobile device (iPhone, Blackberry, etc) of alarm events and arm/disarm remotely. You can be notified via email or texts of any alarm event or the activity of any security system devices. Know when the kids get home from school or if there is a medical emergency at Grandmas.
Control your security system from work or on vacation in Hawaii via the Internet and receive notifications about activity or alarm events on your laptop or PC.
PEACE OF MIND knowing your family and home are being protected. There's no price tag on loved ones and emergency response systems do save lives.
To order a Home Security System with monitoring to be installed in your home call 1-800-310-9490.