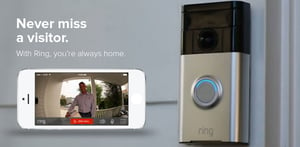 Use ADT Pulse features from within your Ring app. Why would you want to you ask? Because as the ring video put it:
"When you leave home each day,
you leave your most valuable asset
vulnerable to unwanted visitors"
Your Ring doorbell already alerts you when someone is near your front door and offers you live video to see what's going on. You then are able to respond to that person, giving the impression you are home, whether you are or not.
ADT Pulse AND Ring together...
As the video portrays, one of the most common break-in techniques is to knock on the door first and see if anyone is home. Many burglars don't want to meet you so once you respond, they will say they are lost, were looking for someone else, or as this fellow says, in the area offering some work. Now that he thinks you are home, he's out of there! In case there is any doubt, you can turn a porch light on and double check that the security system is armed.
There's also the thief that's just casing the house. He isn't going to knock or ring the doorbell. Ring's motion detection will still alert you and provide live video. Right from that screen you can confirm the doors are locked and the system is armed, turn on a light and even ask them what they need. So you are have access to relevant ADT Pulse features right on the screen that pops up to alert you of a person near the house.
You can also access in-app emergency assistance via a panic button. That's security!
On the Pulse side of the action, you will have

the Ring doorbell event history in the Pulse app camera menu and you can see the Ring event history or click on a Ring event to launch the Ring app to view the video clip.
ADT Pulse Home Security Systems
If you are not yet familiar with ADT Pulse, it's ADT's offering for home automation tied in with your home's security system. Using your alarm system as a platform for your home automation has revolutionized the "Smart Home" market. A home automation system that would cost $10,000 and up for your security, lights, heating and air, video surveillance and door locks to all work together, is now available for a tenth of the cost.
Learn more about ADT Pulse by giving us a call at 1-800-310-9490 or click on our 5 essential steps to protecting your family to the right. It's a FREE download offering expert advice for your families protection. If you'd like to look into having an ADT Pulse system with a Ring doorbell, contact us for a FREE security review today.