ADT Pulse is hands down the best system around. It is cutting edge technology for today and tomorrow, coming from the company that invented home security. In today's increasingly mobile society, more and more consumers have become accustom to using technology and expect their experience with it to continually evolve. One might say that we are hyper-connected!
ADT Pulse was created to meet the demands of your highly automated lifestyle and create a platform giving you endless possibilities. Every year ADT adds ways to better protect what you love and simplify your life.
The Evolution of ADT Pulse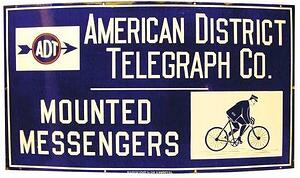 Have you ever wondered what ADT stands for or where it came from? Well, in 1870,a woman woke up to a burglar in the house and as any great hubby would do, he created a monitored telegraph alert system for their home and 50 New York neighbors. In 1874, he began American District Telegraph or ADT. Yes, a telegraph company. By 1890 anyone could use an ADT telegraph system to transmit specific alerts to get police or fire assistance, or even a doctor or carriage. In 1984 ADT officially became ADT Security Systems and focused on perfecting home security.
Do you have a smart phone? Well by 2010 a whole lot of people did! So they launched ADT Pulse Interactive Solutions. This new system made it possible for people with any compatible smart phone or laptop to remotely access and control not only their home security system, but several applications including lighting and climate control, small appliances and much more, all in real-time. Read more about ADT's history here.
The Expansion of ADT Pulse

ADT continues to pursue a more integrated approach, optimizing the connections between home security and our increasingly comprehensive digital lifestyle. October 2010 marked the official roll out of ADT Pulse systems to the public offering cutting edge home security with live video monitoring, lighting and thermostat control. Automation features offer several methods to set up controls that happen automatically with text and email alerts of events. You can also access and control your ADT Pulse system with your web enabled devices. Smart home features that were previously only available in expensive home automation systems or less sophisticated DIY systems are now accessible with your ADT Pulse system. ADT Pulse offers top notch home security with lifestyle and energy management.
Take a look at how ADT has evolved the Pulse product since 2010:

ADT expands its video surveillance portfolio with new cloud-based and local DVR (digital video recorder) storage offerings designed to meet the needs of America's small business owners. ADT's extended video offerings give small business owners the flexibility to keep tabs on their most critical assets, store their video footage on-premise or in the cloud, scale their investment level up or down over time, and have a better understanding of their overall business operations.
ADT and Southern California Edison (SCE) team up to provide SCE customers with energy management and reporting capabilities through ADT Pulse. ADT Pulse can connect to SCE customers' Edison SmartConnect meters to show home energy consumption, historical energy usage information, daily energy bill estimates and energy savings alerts. These features enable customers to easily monitor, understand and adjust their energy consumption and help them save money on their electric bill.
ADT unlocks the power of ADT Pulse with automated door locks. Just in time for Christmas 2012, ADT announces the remote door locking feature. ADT Pulse users busy baking Christmas cookies can unlock their front door for arriving guests without ever leaving the kitchen.
ADT teams with McAfee. Both McAfee and ADT recognize that the lines between physical and digital security are blurring. The companies are committed to bridge the gap between physical and digital security, and create new products and services that will offer consumers low-touch, automated connections between their ADT platform and McAfee-protected devices.
ADT has partnered with Ideal Life and the two will continue to support the ADT Health platform with real-time health management services. The ability for customers, as well as caregivers and trusted medical providers, to monitor and track health and wellness considerably differentiates ADT from other home automation and security providers.
ADT has partnered with Samsung for a Samsung Smart TV App that puts the entire Pulse feature set on the big screen. Consumers can navigate the ADT interface via the hand held remote that comes with a Samsung Smart TV.
ADT and Ford Motor Company integrate the ADT Pulse app with the Ford SYNC AppLink, giving voice control technology for hands-free control of home security and home automation functions. Drivers of Mustangs, Explorers, F-150s or any other of Ford's 1.5 million SYNC AppLink-equipped vehicles can access their ADT Pulse system with one touch of the steering wheel-mounted SYNC button.
ADT Pulse Remote Garage Door Control. No bulky IR device attachments required, and you can activate it from anywhere — your driveway, your workplace or on a trip to the other side of the world. The Remote Garage Door Control doesn't simply replace a lost garage door opener or reduce the number of devices you need; it adds new possibilities, such as opening your garage for deliveries and visitors while you're away from home.
ADT Pulse Wireless Platform. It's like ADT's iPad, a sleek and intuitive new touchscreen that frees users from the limitations of traditional wired technology. Even if the only benefit was eliminating the need to cut into walls to install the control panel, the Wireless Platform would be enough to help eliminate one of the biggest homeowner concerns. However, the seamless integration with ADT Pulse means this wireless control embraces all existing home automation possibilities as well as any future expansions.
The Near Future of ADT Pulse

By exploring the potential of home automation and mobile interactivity, ADT appeals to the futurists and gadget-lovers, as well as the average user who embraces mobile integration of as many aspects of their life as possible. Take a look at just a few things in the pipeline:

One planned development from the partnership with Life360 is a new mobile application that will integrate features from ADT Chaperone, an existing 'on-the-go' personal security offering from ADT. The upcoming mobile application from ADT and Life360 will provide direct access to ADT's 24/7 monitoring centers that can connect users to police, fire and emergency medical responders. By leveraging the best of ADT and Life360 technologies, users will feel relaxed knowing their families can check in with the touch of a button, rather than having to make a call, or take a break to contact their loved ones.
Another future ADT Pulse addition tackles one of the biggest hurdles with home automation: integrating all your devices. There are thousands of super cool smart products on the market, but who wants 80 different remote controls? IFTTT takes it's 126 subscribers and allow you to program a reaction with one subscriber to cause an action with another subscriber. What does that all mean? It means that you will be able to tell IFTT that when your Jawbone UP (a device that monitors foot steps, heart rate, etc.) registers that you woke up, it should turn on the ADT controlled coffee pot. Literally a smart home owner's dream! Whether it's adjusting the thermostat to react to local weather conditions, or arming the security system based on users' GPS data, an ADT Pulse Channel on IFTTT could enable users to put even more aspects of their home on auto-pilot. It's channels offer apps like facebook and twitter, services and other physical devices that can all interact amongst each other, using a simple click and play methodology.
The main advantage of an ADT Pulse system is that you get monitoring from the industry leader in home security protecting your loved ones. With security at the top of many people list of what's important, ADT Pulse is a natural platform to use for your smart home and it's more cost effective than traditional home automation options. It is evident that ADT is leading the way in creating a system that can be integrated with other popular brands you know and love as well as new technologies that provide more control and convenience. As ADT continues to pioneer new technologies, they provide the ADT Pulse subscriber with a cutting edge user experience not only today but into the future. To learn more about ADT Pulse or set up a FREE In-Home Security Review, contact us at 1-800-310-9490.