This information was posted on Nextdoor.com to give homeowners in the San Ramon area safety tips for burglary prevention during the fall season. It was posted in September and written by Kyle Madison, Regional Manager for Security Pro Group. It is definitely worth the read and very informative to help any homeowner complete steps to protect their family.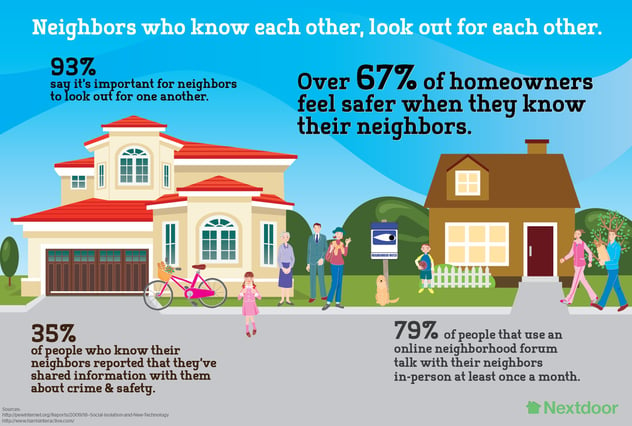 six Safety Tips to Help You Prevent Being a Burglary Victim
Good Day NEXTDOOR Neighbors and Family!
I have had many of you reach out to me expressing appreciation and also sending me a lot of referral business since my last Burglary Prevention post. Thank you so much! I have recently had numerous requests to post more content. So here it is! Let me make clear that this content below is not meant to be a solicitation for business. Thank you. Kyle Madison San Ramon ADT Alarm Services.
Residential Burglaries begin to increase dramatically during the fall and winter months for a few reasons. One reason is that the days are shorter. 80+ percent of all home burglaries are during daytime hours and occur mostly when Homeowners are at work. it makes it easier for a burglar to navigate around the home and find valuables. Also, they are less likely to walk in on someone being home or having someone come home and walk in on them.
With the daytime hours being decreased during the fall, the window of opportunity is lessened for burglars. Especially when daylight savings ends on November 5th. We start experiencing darkness as early as 5:00 p.m. Another big reason for the increase in burglaries is the preparation for traveling and gift purchasing for the holidays. Many people begin taking vacations in November to share Thanksgiving with their families. We also begin to purchase gifts for Christmas as early as now. That means that we will be ordering a significant amount of merchandise online and having it delivered to our homes. This time of the year also poses a huge influx of package and delivery thefts off of porches. Many people hide gifts in the trunks of their vehicles so we notice a huge increase in vehicle break-ins too. Many times right in the driveways or out front of our own homes as we sleep. This gives Burglars incentive to case out our homes while committing these other crimes. Last but not least, Christmas travel is the highest of the year. Burglars love this time of the year. Please read some tips below to help decrease becoming a victim.
Prevent Your Home from Being Burglarized
1. If you have an alarm system,
make sure that you have signs
that are visible to the street and protection decals applied to the windows of the home. 9 out of 10 apprehended burglars state that they will pass on a house that has evidence of a security system and go on to the next one. If you already have the system make sure that you always arm it when your family is not home. I also recommend that you arm it at night when the family is home. Especially overnight while the family is sleeping! If you do not have a
security system
, I strongly recommend it. I get calls every day from someone within our area that has either had a burglary themselves or a nearby neighbor. Keep in mind. The fact that we all live in a rather affluent area does NOT mean that we are not susceptible to crime. Most burglars are partial to our area because there are more valuables in the homes and we are less likely to have alarm systems based on the safe communities that we live in.
2. Always keep your blinds or curtains shut at the home. Make sure that is no clear views into your home. Many burglars will peak into windows to try to evaluate valuables as well as possible entry points. Be especially careful with the placement of your Christmas trees. If a Burglar can look in and see a ton of gifts under the tree, it makes our home a perfect target. The Grinch is real!
3. Avoid leaving empty electronics boxes in visible areas after Christmas. Many burglars drive around and look at the garbage piles left outside of peoples homes to see what types of new additions have been made to the home and families.
4. To
deter possible Package thefts and vehicle break-ins
I would recommend
security cameras.
One over your front porch and one over the driveway is my most common recommendation. You can get cameras with an ADT security system or there are several other options available on the market. Night owl and Lorex are some popular 24/7 DVR recording systems available at reasonable prices. Security system cameras are motion activated and only record when someone comes into the field of view. You can decide which is more appropriate for your home and families needs. They are a great deterrent but can also prove useful to identify a criminal with the footage,
5. Make sure that you
always remember to lock your doors and lock your windows
when you leave the home or turn in for the night. Unlocked doors and windows are the "most" common points of entry for burglars. Do not make it easy for them. I also recommend that you lock car doors and check windows everytime your vehicle is parked outside. Make sure that you never leave
garage door
remotes in plain sight. Make sure that you check your garage door every night before going to bed as well. If you currently have an alarm system, reach out to your current vendor and ask about Trackmount sensors for your main garage door. This way you will
know if you accidentally left your main garage door open
.
6.
Always let trusted neighbors know when you are going on vacation.
Ask them to look in on the place periodically. Also ask them if they can grab your mail, newspapers, and packages so that they don't gather up and indicate that you or your family are out of town. It's a good idea to
purchase some light timers
and place them around the home. That way you can give the appearance that you are home. Let your neighborhood watch know as well. Last but not lease,
be careful about advertising your vacations on Social Media
. Not everyone on FACEBOOK is truly a friend. Local Law Enforcement agencies have noticed a significant increase in burglaries over the recent years directly links to Social Media posts and photos.
Hopefully, this information has been useful to all of you. If you have any additional questions or concerns please reach out to me directly at Kyle Madison ADT Alarm Services San Ramon 925-997-7563. Please feel free to add any additional safety tips that you can think of to this posting.
Thank you all again for your support and stay safe!!!!!!