Security Pro Group President, David Loetz Sr, just got back from the ISC Show 2019 in Las Vegas. It was great to hear his review about ADT Command and Control. He said, "...that ADT, with the new ADT Command panel and Alarm.com had the most innovative products and cutting-edge security technology at the entire show." Keep in mind, products from around the world are presented at this show to security professionals and integrators from around the country.
David is an owner of an ADT Dealer, so you may feel his opinion is biased. But, this is the first time in years I have heard him this excited about the ADT products being shown at ISC. I have been to many ISC shows myself and typically we are asking... why can't ADT get some of these new technology products others are offering. No longer is this the case... now we are just super proud that we are have the coolest new technologies at the whole show. What's even better... is now we can install them for you.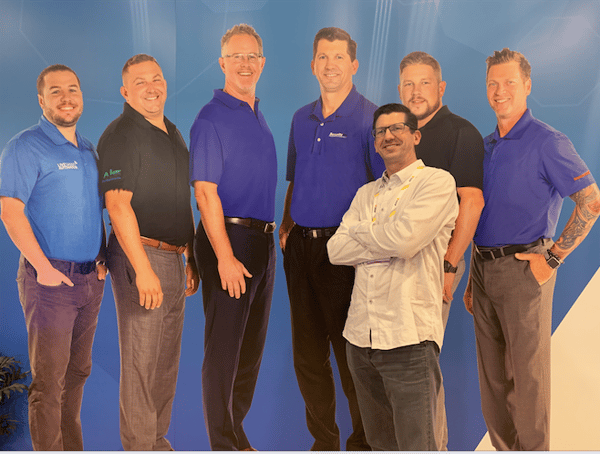 This is a photo of Dave Loetz at the ISC Show 2019, standing next to a wall mural at the show... featuring him and other ADT Security Authorized Dealers at the ADT Command and Control booth.
ADT Command Reviews from Technician Training
When you get a group of technicians who have installed thousands of security home alarm systems.. each, in the same room to look at a new product... it is very interesting to watch for us that are in marketing and sales. This is where the rubber meets the road, where the truth about a product comes out. Trainers get questions they have never thought of and run out of answers.
I was privileged to be able to attend a regional installation training on the new ADT Command Panel and the ADT Control App. Honeywell Home - Resideo who manufacture the ADT Command Panels and Alarm.com who provide the new ADT Control app where both there to present and train. It was a great training filled with a lot of excitement as the Technicians were thrilled about the new products and looking forward to installing them in customer's homes. Lot's of ooooooooohs and aaaaaaaaaaws!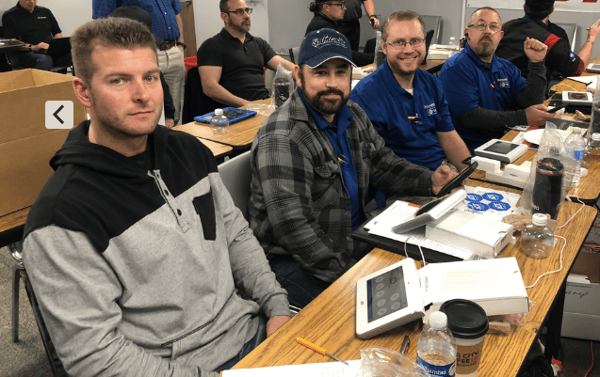 ADT SecurityPro technicians at the ADT Command and Control Training. Left to right: Jeremy Lorenzo, Pat Amatrone, Mikel Simon and Jessie Amatrone.
Here's a few of the technician reviews:
"The amount of equipment that you can put on the panel makes it adaptable to any home and offers near limitless capabilities. The look and design is also something to be praised as it provides excellent mobility and convenience, allowing you to move it around inside your home, whether it has been mounted on the wall or not."

- Mikel Simon, Technician

"I really like the design of the new ADT Command keypad. It has a modern design. I also like the use of use of the touchscreen.

- Jessie Amatrone, Technician

"What I liked most about the Command 7" panel is the touchscreen look for the keypad and that it has Z-wave built in. I think the Control App is user friendly for customers. It's going to be a big game changer!

- Jeremy Lorenzo, Technician
Review from Jarrett McAllister, VP of Business Development, who attended the training
"ADT really stepped up their game with this one. The touchscreen panel looks slick and any customer would be proud to show it off in their home. The ability to do three and soon four partitions on one system is a game changer."
It appears that both our technicians and VP of Business Development like sports analogies... calling the ADT Command and Control App a game changer... and I agree with them. ADT Command and Control will change the smart home security industry. When ADT, the leader of the monitored security world, put this much effort and ingenuity into bringing us the newest smart home security system on the market today, people will be impressed.
For homeowners, you will get to experience home security and smart home automation at it's finest. You are going to love ADT Command and Control!
ADT to Replace Pulse With Command and Control Platform
I wanted to share an article written by one of the industry leaders. Article written on March 18th by security industry expert Jason Knott.
"ADT Command and Control, a wireless panel and app combo with numerous smart home capabilities, will launch...
..things will really heat up in 2019 when the company says goodbye to the original Pulse platform launched in 2010 and replaces it with the new ADT Command and Control — "Command" being the alarm and automation panel, and "Control" the platform and app...
Pulse had a good run, and some 3 million ADT customers are using the platform today, but "as home automation continues to evolve and become more accessible," says Don Young, ADT CIO and EVP, field operations, "customers want and expect a security solution that is fully integrated with the latest technology innovations."
The self-contained wireless Command panel features a 7-inch touchscreen...." read more, complete article >>>

Jason Knott, author of the above article, is currently a member of the CEDIA Education Action Team for Electronic Systems Business and serves as the Chief Content Officer for CE Pro, Commercial Integrator, Security Sales & Integration and Campus Safety.
ADT Control App Customer Reviews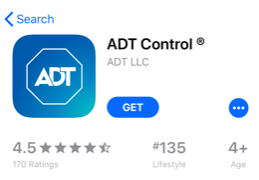 The first 170 who rated the iOS ADT Control App give it 4.5 Stars. This is fantastic as improvements to this new smart home platform are being made everyday.
Customer Reviews

"It's such a easy user interface with everything lined out on one screen! I'm having the system installed for my mom who hates electronics and she agreed to it once she saw how easy it was to use mine." - Moyboy590
"I've been using this app for a few month now. User friendly and easy to use. Can't wait to explore all the benefits that can be done with it."- Crazylovebug
If you would like experience the most amazing new smart home security system on the planet... call today to order your system and schedule an installation or get a free quote at 1-800-310-9490.