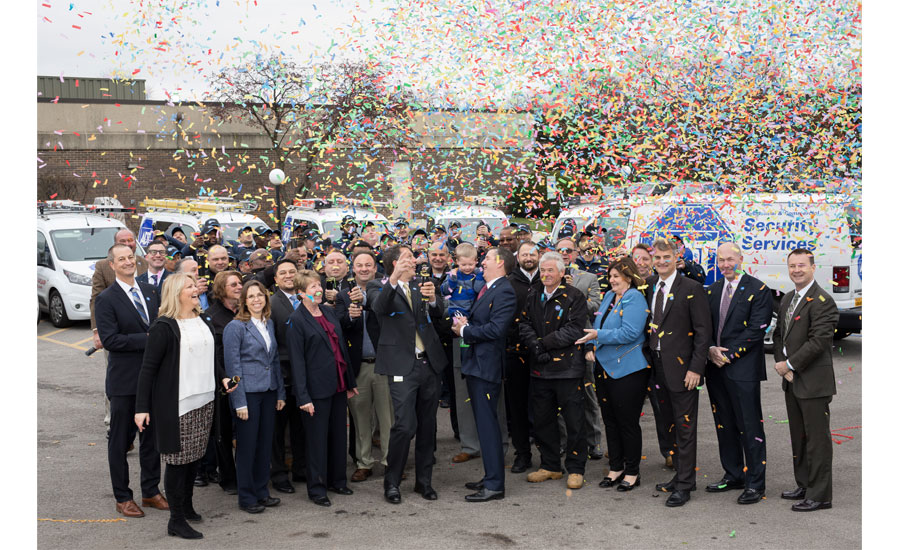 I recently attend ADT's Dealer convention and the most impressive part of the event was learning about the transformation ADT has made in customer service. As an ADT Dealer, over the years the customer service of ADT as a national company has been weak at times. Although the the monitoring service centers for alarm events have always been quick to respond, getting a customer service representative to help you for billing or a service call often took way to long. We had to tell our Security Pro customers to call us if the ADT Corporate is not giving them the service they deserve.
Fast forward to now, ADT just won the 2017 SDM Dealer of the Year Award for the transformation under new leadership to be 100% customer-focused.
Leadership Made the Difference in ADT's Customer Focused Obsession
The first time I met Tim Whall, CEO, was at an ADT Dealer event. His first message to us was about what he was going to do to fix the customer care department. He was determined to make ADT not only the largest nationwide security company, but also the best when it comes to customer service.
He told us about how he grew up in a family run security business. His mom and dad taught him the value of taking care of each customer and one of the things they believed in was taking every customer call live. When his mom found out Tim became the CEO of ADT she decide to call ADT and see what her experience was. When she called and had to go through multiple prompts and waited much to long for a real person to help her, she called her son and said you have a lot of work to do! He told her... I know mom, I just got the job.
After the event, we were at the airport and saw Tim there waiting for his flight. As we talked with him we realized he was definitely going to make ADT into the finest customer service security company. He was starting a trip to visit all of the 200+ ADT locations across the country and spread the message about customer service. Some of his first stops were going to be the customer service centers. I knew that day ADT was going to become a amazing company.
So how did ADT make this astonishing transformation?
ADT Customer First Culture - Being the Best Nationwide Security Company!
When someone becomes an ADT customer they deserve to receive incredible customer service. But what does that mean?
Obviously customers want to have a fantastic experience with a custom designed security installation and monitoring service that is quick to respond to emergency events. ADT has always done well with these two. However, real customer service often begins after the initial installation. Like when you call them and need help with your billing, have a question about your security system or need to schedule a service call. This is where real customer service begins. This is where ADT needed a lot of improvement.
Back in 2016, depending upon when you called and what you called for, wait times on the phone were terrible. Sometimes you could not get a service scheduled for you alarm for five to seven days or longer. Calls were transferred multiple times. Customers were often frustrated to the point they wanted to cancel their alarm monitoring service.
The Customer Care Transformation of ADT...
The goal for ADT in 2017 >>> was to create unparalleled customer service. Here is how it was done.
March 2017 - Longest Call Waiting
Hired 1,016 people to meet high speed to answer standard - record breaking performance!
Invested in employee retention... made it a better workplace
Workforce management skill consolidation to meet lower longest call waiting risk at peak times and in small queues
June 2017 - Transfer Rate
Behavioral coaching: 109 team managers trained and certified
Primary interface development
Cross- training to empower agents to Own It: 2017 trained 1,570 agents and invested over 90,000 hours of training
September 2017 - Live Call
Remove IVR menu prompts for identifiable customers
Reach a live person within 60 seconds
The majority of ADT customer calls received by Care can be resolved by the first person they reach
As Tim Whall was trained by his mom and dad with family run security business, having a live person promptly answer customer calls and be able to help them without transferring you is paramount to unparalleled customer service. Considering that in 2016 the average customer waited for over a minute, it was an absolutely amazing accomplish for ADT Customer Care to have it's first day in 2017 with over 62,000 calls >>> all answered by a live person within less than 60 seconds... Unbelievable!!!
The Results of ADT's Customer First Culture in 2017
Improved to an A+ BBB Rating
18 million calls total > 17 million within 60 seconds > Average speed of answer of 18 seconds
12 million life safety alarms
Live answer: is now 10 seconds vs 70 seconds in the IVR before speaking with a agent in the past
Service calls: 65% are done same day or next day... in the past most were with 5 to 7 days
Why Does This Matter to You?
Now you are able to have the confidence that you are being protected by the best monitored security company in the nation and will receive award winning customer service. Now you can have the superior local installation of your ADT monitored system by our Security Pro team and also be assured of your customer service experience after your installation. To find out more about your security options and to schedule a free home security review call 1-800-310-9490.