Being the oldest Home Security Company in the industry has its advantages. And being their customer has advantages as well! For one, with over 100 years of protecting families and businesses all over the world, ADT has been able to obtain and hold onto a solid reputation. Because of that stability, ADT can offer you promises smaller companies can't. Here's how having monitoring with ADT benefits you:
ADT Offers a Theft Protection Guarantee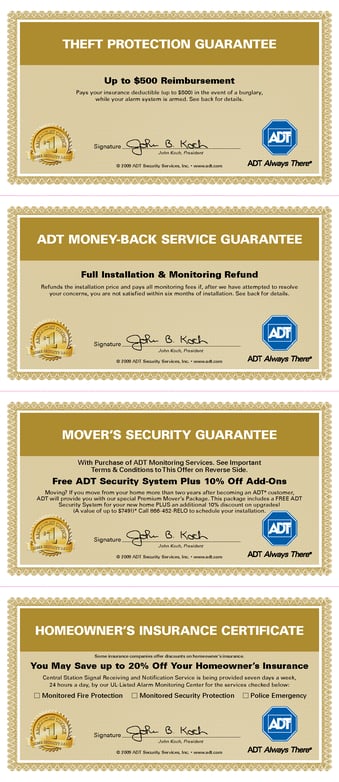 The ADT monitoring center network employees know they offer reliable and excellent service. So how do you prove that? You put the money where your mouth is. In the unlikely event that your home is robbed or broken into while your system is armed and in good working order, ADT monitoring will provide you with up to $500 of your insurance deductible.
The place where the burglar entered does have to be a covered sensor that should have activated. For example, he front door has a sensor, and it is working but did not sound when intruders entered through it. An example of when this would not apply if a back room window that did not have a sensor was broken into and that room burglarized. Likewise, if the system was unarmed at the time of the burglary this guarantee would not apply.
ADT monitoring is willing to offer this because they know that your home is 300 times less likely to be burglarized when you have an ADT monitoring alarm system installed and they fully believe in their product. They have a proven track record of keeping homes safe, which is why they've grown to become the largest security company in the nation. In fact, they're estimated to be ten times larger than the next largest security company.
ADT Offers a Money Back Service Guarantee
Just like the "No Lemon" clause on a new car, there's a No Lemon clause on your system. ADT realizes that everyone will make a mistake at some point. How that mistake is handled really defines who a company is and how they stand behind their product. ADT will work diligently to address any concerns you have with your system, the installation or any issue that might arise. If the issue is not able to be resolved, ADT will refund your costs for the whole 6 months of installation charges and monitoring fees.
ADT monitoring is proud to supply cutting-edge, customized products that help keep your home secure and they are positive you'll find what you need. Most other security and home automation services only offer between a 3 to 30-day money back guarantees, so ADT monitoring goes above and beyond to make sure its customers are satisfied. Check your ADT Money Back Service Guarantee Certificate for full details.
ADT offers a Mover's Security Guarantee
ADT is happy to help you in your move to a new home. If you have been with ADT monitoring for 2 years or more, you will receive a comparable but brand new system for your new home. Your account does have to be in good standing at the time of the move and you will move into a completely new contract at your new home. You will also receive a 25% discount on any additional equipment you might decide to purchase.
If you are a returning customer, this guarantee is also good for you. Again as long as your account on your previous contract was left in good standing. You also receive the 25% discount on additional equipment that you might decide to purchase.
ADT Offers a Homeowner's Insurance Certificate
Your Homeowner's Insurance Certificate will earn you up to 20% off your homeowner's insurance premium. Insurance companies realize that having an ADT Home security monitored system makes your home far less susceptible to burglary and break-ins than homes without security systems in place, making insurance companies willing to offer discounts on your plan.
Factoring in the Homeowner's discount, many customers find having ADT monitoring installed in their home can cost less than a couple Starbucks a month. Make sure to talk to your insurance agent and then check your email a few days after install for your certificate.
ADT offers a Quality Service Plan Warranty
ADT monitoring does offer an extended warranty. For California Security Pro clients, it is included in your monitoring costs automatically so you never have to worry about costly service calls. Without the plan, the average service call is around $350. The first 90 days after install, there is always no charge for a service call related to the install of the equipment.
The Quality Service Plan (QSP) will help cover you after 90 days, in the unlikely event that your equipment malfunctions or suffers accidental damage. It also helps alleviate the cost of unplanned service calls on your home security system.
As you can see, the benefits of being an ADT customer are many. Not only do you get the protection of the company that actually invented the home security system, you are also backed by guarantees that you will be satisfied and protected by the equipment that you invest in.
If you are looking to get an ADT monitored home security system, check out our reviews from current customers and then give us a call at 1-800-310-9490, or click here for a FREE In-Home Security Review.