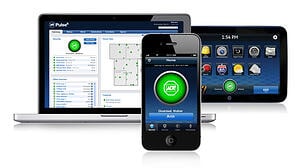 ADT Pulse is quickly becoming the number one choice for ADT home security installation. Originally, between 10-15% of our home security customers chose ADT Pulse to protect their homes and families. Recently, with the added features of ADT cameras and home control now between 40-45% of our customers are ordering ADT Pulse.
Customers are feeling that ADT Pulse provides them with the level of security and home automation that they desire. With ADT Pulse monthly monitoring rates being only $4-$13 more than our most popular cellular security system with voice connect, it makes sense for most customers to upgrade to ADT Pulse. The initial investment for ADT Pulse equipment packages are also very reasonable. Find out which ADT Pulse package is right for you. Call 1-800-310-9490 to schedule a free home security review or order now.
Benefits of ADT Pulse Home Security
The benefits are numerous, almost endless, but let's look at some of the things our customers are enjoying most about ADT Pulse. The first is the ability to check the status of your ADT Pulse security system remotely from your smart phone or computer with Internet connection. After checking whether your security system is armed or disarmed, you also have the ability to remotely ARM or DISARM your security system.
Another benefit of ADT Pulse is text and email notification of emergency alarm events. Whether your home alarm is going off due to a burglary, medical emergency or fire (with a monitored smoke detector installed) you will get a text or email notification depending upon how you set up your ADT Pulse system.
You can also get remote notification of device events. An example of a device notification is having a motion sensor in a restricted area like your master bedroom. Program your Pulse system to notify you via text anytime someone enters your master bedroom between the hours 9am-5pm Monday-Friday. Keep your children and their friends out of your master bedroom when you are not home.
For more information on how ADT Pulse works read this article ADT Pulse is Home Automation and Security.
ADT Pulse Cameras with Homeview
With ADT Pulse cameras it's easy to see what's happening at home. You will receive secure real time video from any remote location with your mobile devices via an Internet connection. It's simple to login to ADT Pulse to view your cameras from your mobile smart phone, tablet or from your computer at work via the Internet. Set up your Homeview with a diagram of your home layout and your ADT Pulse Camera locations through out your home. This makes it simple and easy to navigate and pick which camera you'd like to view at anytime throughout the day.
ADT Pulse cameras and Homeview are setup to make it easy to view your home at anytime, capture a picture of the live video you are viewing and program the system to record short video clips of alarm and device events. ADT Pulse does not continuously record all the video. If you would like continuous recording of all your video you will need to order an ADT camera system that includes a digital video recorder. Although ADT Pulse cameras do not provide continuous recording they do offer the perfect solutions for viewing your home remotely and capturing a recording of alarm events, all at a very affordable price.
Setting up Your ADT Pulse is Simple
The ADT Pulse system platform is super user friendly and very east to use. It is straight forward and easy to navigate the ADT Pulse site. Check out our video of the basic features and functions of the ADT Pulse software platform, video of ADT Pulse Demo. This 10 minute video will give you a fantastic overview of ADT Pulse and many of the benefits of having an ADT Pulse system installed.
Other videos are available at our California Security Pro You Tube Site including setting up your ADT Pulse Home View, iPhone App for ADT Pulse, Android App for ADT Pulse, ADT Pulse Touchscreen and more.
For other related information on ADT Pulse check out these articles:
To learn more about ADT Pulse, schedule a free ADT Pulse home security review or to place an order for ADT Pulse call 1-800-310-9490 today.