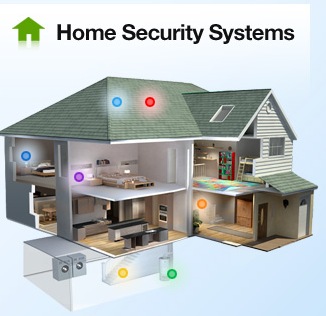 Over the years we have heard many misunderstandings of what an ADT Monitored Security System can and cannot do and now it is time to set the record straight. An ADT Alarm System can provide you peace of mind by helping to protect what matters most -- your home and family from burglary, fire, and carbon monoxide dangers! ADT is constantly improving their communication technology by providing fast and reliable response services with locations strategically placed across the country. ADT has been providing 24 hour alarm monitoring to homes for over a 100 years and are the true leaders in the security business!
Understanding ADT Home Security Monitoring
1. If the control panel is ripped off of the wall the alarm signal will not be sent to the ADT monitoring station.
When you choose to install a wireless GSM Cellular Alarm System there is no way to disarm the system even if it is ripped off of the wall. The reason for this is the cellular unit and the back up battery reside inside the control panel. This means that the cellular signal is sent within 6 seconds from the unit and if ripped off the wall, the battery back up continues to give the unit power. You can rest assured that the signal will be sent ultimately giving you added peace of mind. This is a vast improvement over the older landline dial up security systems that could take up to 24 seconds for the alarm to connect to the ADT monitoring station. Also, phone lines can be cut and therefore disarming your system. Of course, if you have an ADT Pulse system you are protected in the same way because it has a built in cellular communicator. Now close to 80% of all alarms installed today are using cellular communication as a way to connect to the ADT central station as compared to just a few years ago, it was only 50%.
2. The ADT Monitoring Station is located in Florida so if there is a hurricane the monitoring station will be shut down and unable to receive your signal.
ADT has the industry's most comprehensive security monitoring networks with five central stations in the United States. ADT offers continuous security nationwide and if a connection is ever interupted due to any adverse conditions, another center will promptly take over. The location is not important because ADT operates 24 hours a day and all signals are received electronically and within seconds. All data such as which component triggered the alarm appears instantly to the monitoring station as soon as a signal is received. This way the ADT representative can tell the police all of the details.
3. With the two-way voice connect option, ADT can listen in at your home anytime.
The Two-Way voice option gives you the ability to talk with the ADT dispatcher to alert them of your emergency. This hands-free option is only activated in the case of an alarm event or if you have chosen to initiate this feature at the time of an emergency. You are the ONLY person in charge of triggering this two-way communication with the ADT monitoring center. By activating the system by choice, you are quickly greeted by an ADT monitoring representative that will help you through the emergency and stay with you every step of the way. If an alarm event triggers the system, the ADT dispatcher can listen in to what is happening and respond quickly by sending the appropriate help. To maintain your privacy, your alarm must be activated in order for the ADT dispatcher to listen in and communicate with you.
4. Only old and refurbished equipment is used for installations.
Refurbished equipment is never used for ADT monitored security systems! Only state of the art equipment is installed which is ALWAYS brand new, right out of the box. There are a few different brands used such as DSC, GE and Honeywell/Ademco. In the case where equipment already exists in your home, it is easy to do what is called a "system takeover" where we can utilize existing equipment from another company and still get it monitored with ADT.
5. After installation no maintenance is provided.
The ADT monthly monitoring fee includes maintenance and replacement of faulty equipment. If a service call is needed, there is no charge for the first 90 days and after that there is only a minumal $25 trip charge. In fact, ADT has a money-back service guarantee! If during the six months following installation it has been determined that any installation/service-related concern is not resolved, your monitoring fees will be refunded. Some other companies offer a lower monthly fee but in most cases you have to service and maintain the equipment yourself.
For more information call 1-800-310-9490