You may be thinking of getting a home security system. Should you have a hard wired or wireless system installed? You may be in the process of comparing and checking out reviews of various alarm systems to figure out the right system for your home and family. Below you will find out information about the benefits of different security systems and also about different security devices. Hopefully you'll discover what home security system will match your needs, budget and give you the level of protection you desire for your family.
This information will be about product features and benefits. It will not be a guide to monitoring services or your different options of monitoring packages.
ADT Branded Home Security Systems
First, many people are confused by who manufactures home security systems.

For example, many will say "I have an ADT Security System installed in my home"… and their neighbor has an ADT system installed as well, but they are completely different systems. The reality is that ADT has a list of authorized security systems that meet ADT's standards and work well with their monitoring stations. Most of ADT branded security systems are manufactured by Honeywell/Ademco, GE or DSC. Each of these manufactures also provide hard wired and wireless security systems. Obviously all security systems have their own unique benefits but for the most part all of the the benefits are comparable.
What are the benefits of various security panels and equipment?
Hard Wired Home Security Systems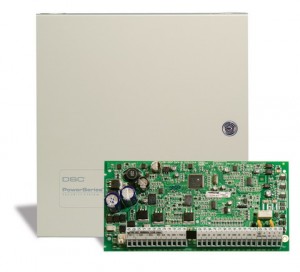 This is a picture of a hard wired system panel. The Central Processing Unit (CPU) is installed in the Security Connection Box along with a battery backup, phone connection and a power supply. All the wires run to doors, windows, keypads, sirens, motions , glassbreaks, monitored smoke detectors and other security devices throughout you home.
You should have a hardwired security system installed in your home when your home has been pre-wired for security during construction or you are updating or replacing a existing hardwired system. One of the nice things about today's hard wired alarm systems is that you can also use wireless devices to enhance the system without running additional wires. Most hard wire security devices, other than keypads, are interchangeable between manufactures. For example, you can use a hardwire Honeywell motion with a DSC or GE hardwire panel.
Some of the advantages of a hardwire security system is that you never need to replace batteries in hardwire devices, multiple keypads (most often front entry, garage entry and master bedroom), keypads are smaller and more esthetically pleasing, a burglar cannot disarm a hardwired system by tearing a keypad off the wall, can have partitioned zones (like an In-law unit that uses the same system but can be armed separately), don't see the contacts on the window and doors (inside door frames), can be utilized with various types of home automation systems and can be very robust which may be necessary for very large homes.
What are some of the disadvantages of hardwired security systems? Unless you purchase zone expanders (which may become cost prohibitive), most hardwired system have 6 or 8 zones. With the exit/entry taking one zone, motion sensor taking another zone and smoke detector taking a zone you are only left with a few zones. This means grouping multiple doors and windows on the same zone. Where this is a disadvantage is when you want to bypass a window you left open for some fresh air and all the other doors and windows tied to this zone are now disarmed in bypass mode. Also, when you go to arm your system and a window is open, you not sure which exact window to go and close so you can arm the system, just what zone (group of windows) has a window that needs to be closed. This can be inconvenient. The most obvious disadvantage of a hard wired security system is if your existing home has not been pre-wired for security, the installation of running wires throughout the home is difficult and at times almost impossible. For example, a two story home built on a slab with no crawl space makes it near impossible to run wires. Unless of course you don't mind wires running under your carpet, behind base molding or crown molding, and having an installer drill holes throughout your home using a six foot drill bit. There would most like be some sheet-rock repair. Since every device is separate and the installation takes much longer the cost can be prohibitive for installing a hardwired security in a home that has not been pre-wired.
Wireless Home Security Systems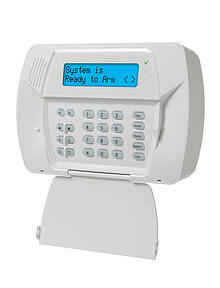 The large majority of home security systems installed in existing homes without pre-wiring is today's wireless security system. These "all-in-one" home alarm systems contain the CPU, battery backup and siren all within the keypad. These security systems are very reliable and the installation can be done on your home without the unnecessary drilling holes throughout your home.
One of the other main advantages is the value of all the features of a wireless home security system at the cost point. They are an extremely affordable way to provide your family and home protection in police, medical and fire emergencies. Each wireless device has its own identity and checks in with the main unit on the hour… "I'm working and have plenty of battery life". Also you can leave a window open in bypass mode without leaving any other windows disarmed (see above disadvantage of hardwire zones). When you go to arm your system and a window is mistaking left open, the keypad will tell you exactly which window is open… some will tell you "Carlie's Bedroom Window Open". Wireless home security systems are typically a perfect fit for most homeowners today and are plenty robust for the typical home.
Some of the most popular home security system panels used today:
DSC: Wireless 9057, Hardwire 1832
Honeywell/Ademco: Wireless Links Plus, Hardwired Vista 20P
GE: Wireless Simon XT, Hardwired Concord
Once you decide on the security panel, what other security devices should you have installed to protect your family? And what protection level is within your budget? The FREE Security System offered by ADT typically includes an essential security system including the panel (CPU), 1 keypad, siren, battery backup, 1 motion, 3 door sensors, 1 key-chain remote and the ADT Sign and decals. You receive the equipment for FREE (retail value is $850) and your only investment is normally $99 installation and the monthly monitoring service. This is a great system for many because it provides essential protection at a very affordable investment.
Free ADT Home Security System
The FREE ADT Home Security System works for many because it provides a deterrent with the ADT Yard Sign and window decals (9 out of 10 convict burglars agree they simply pass home with security systems). It also provides protection at the front door, garage entry door and the back door (most burglaries happen through these openings), a motion sensor which is a backup trap zone that protects your home if someone broke in without opening one of the protected doors when your away from the home, the police panic on your key-chain remote and you also have the police, medical and fire emergency buttons on the keypad. If your budget is a concern this is a great place to start and you can always enhance your system in the future.
See links to other security devices below:
Great Deterrent: ADT Yard Sign and window decals "Protected by ADT" will simply deter burglars from even attempting to burglarize your home.
Perimeter Protection: Door and Window Sensors, Glassbreak Sensors
Interior Protection: Motion Sensors
Remotes: Key-chain Remote, Medical Emergency Panic
Personal Emergency Response Devices: Monitor Fire Protection, Medical Emergency Protection, Carbon Monoxide Detector and Flood Sensor
For more information call us toll free at 1-800-310-9490.