Do you have an existing Hardwired alarm system? For some, that can be a hard one to figure out. After all, you can't see the alarms wires inside your walls any easier that you see your electrical outlet's wiring, right? Most homes are going to have either a hardwired or a wireless security systems. However, there is actually a third type of alarm system, a hybrid alarm system, and while they are not incredibly common, they are sometimes the best solution for re-activating an existing security system.
ADT Hardwired Home Security Systems Versus Wireless Systems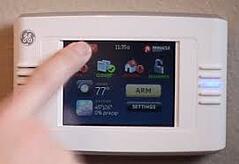 First a quick definition of the terms hardwired and wireless in reference to your security system. With a hardwired security system, each security device is connected to the security panel by a wire. There are hardwired motion sensors, door and window sensors, smoke and carbon monoxide detectors, sirens, glass break sensors and keypads. The wiring is usually run during the construction of a home through the walls, attic and in the crawl space under a home. Wireless devices have no wire and rely on wireless communication from each device to the panel.
No matter whether the signals inside your home are transmitted by a wireless or hardwired connection, the signals that go outside of your house to the central monitoring station can be either one as well. Signals for Home alarm monitoring transmit similar to a phone call. The system will use your land line or it's own cellular connection. So if you've ever wondered, "do monitored security systems require a phone line?" The answer is: not always.
A hardwired land line connection to the monitoring center, called a standard or traditional alarm connection, requires use of your land line. A security system like an ADT Pulse cellular home security system, does not, it uses a cellular connection. Hardwired security systems and wireless security systems are both able to communicate to the ADT Central Station via cellular communication.
So to recap, the signals inside your home between the control panel and your security devices will be by a physical wire or a wireless signal. Then the control panel, wireless or hardwired security system, will connect to the monitoring station by either accessing your land line or using it's own GSM cellular unit. The two technologies can be intermixed in anyway that makes sense for your home.
About eighty percent of both the hardwired and wireless security systems we install do not use a standard phone line for communication to the ADT central station network. We do mostly cellular security systems today because most home owners have or are considering eliminating their land line home phone service. Also a security system using cellular communication sends a signal 6 times faster to central station verses a security system using dial up over the land line phone. Cellular emergency signals are received by the central station in less than 6 seconds and dial up systems can take up to 24 seconds to send the signal. In emergencies, every second counts!
Cellular security systems with ADT CellGuard monitoring service protect you from a burglar cutting the standard phone lines on the side of your home. Cellular communication also protects you from an intruder ripping a wireless security system off the wall and disconecting the phone and power from the back of the control panel. A wireless "all in one" security system using cellular communication can still communicate to the central station after it is pulled from the wall and the power cord is removed. It has a backup battery and the GSM cellular module is inside the unit.
Whether you get a hardwired security system or a wireless security system installed, make sure you get monitoring service with cellular communication.
When is an ADT Wireless Security System the Better Option?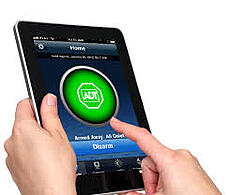 If you don't have a pre-wired home, an ADT Wireless Security System is usually the best option for you. Installing a hardwired system into a home that is not pre-wired for that system can be labor intensive and expensive. Holes will be drilled to fish the wires from your panel to every single device. This is why most homes that have no existing system will want to install a wireless alarm.
If you are doing a major home remodel or building a custom home, you should look into having your home pre-wired for a security system.
There are also advancements in home security technology and home automation that use WiFi, Z- Wave and other wireless signals to communicate between different security and home automation devices. Both wireless and hardwired security systems that are hybrid have the ability to add all the latest technologies.
When is an ADT Hard-Wired Security System the Better Option?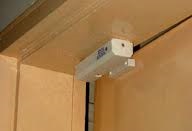 A hardwired system is perfect if your home is wired for a home security system already. However, unless you have been told that you have a hard wired system, it can be hard to figure out. You surely can't peek into the wall and see if the sensors have wires attached. One clue that you have a hardwired system would be a metal box full of wires hidden somewhere like a basement, laundry room or a closet. Using a company that does a free home security review is always your best bet to be sure. You'll want to beware of companies not familiar with hardwired systems that will suggest you "trash the older technology" so that they can sell you a whole new system.
Hardwired systems are also a great option if you are building a new home. Many builders offer pre-wiring your home for security as an option. This option allows you to work with your security professional and plan out a logical and complete security plan to protect your family and adds resale value to your home.
Why Reactivateing Your Hardwired System with an ADT Hybrid Security System is the Best of Both Worlds?

If you have existing wiring in your home, it should be used. Copper wire is reliable and stable for a very, very long time and using your existing contacts saves you money over purchasing all new equipment. A hybrid system utilizes your existing wiring and allows for integration of the many benefits of a wireless system. For example you can add a wireless key chain remote to your system and arm or disarm before even opening your front door. With an ADT Pulse hybrid system there are 5 ways to arm and disarm your system remotely with your wireless devices. That gives you access to your home from anywhere and anytime!
One of the biggest benefits of a hybrid system is tying in smart home features to your security system for a more efficient system and home. For example, ADT Pulse is home security and home automation. It offers wireless devices such as ADT Pulse cameras for video surveillance. You can also protect your family again lock bumping with wireless ADT Pulse deadbolts. Other wireless features include ADT Pulse thermostats and ADT Pulse lights switches, dimmers and small appliance controls that together can add up to energy and monetary savings. Use these features to set automatic responses like all or your lights turning themselves on and unlocking the doors if a fire is detected. You can see your family to safety while the alarm calls the fire department.
You do receive a FREE* home secrity package when reactivating your existing system. When you utilize your existing hardwired system, you receive up to $850 in additional upgrades in addition to your current system. To learn more about hybrid , hardwired or wirless systems or to schedule your FREE Home Security Review, call us at 1-800-310-9490.