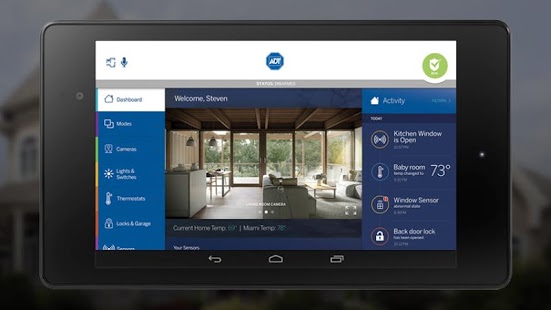 On July 21st, 2015. ADT rolled out the long awaited ADT Pulse App 7.0.0 for Apple and Android devices. The big improvement is the integration of voice control into the standard pulse app. No more selecting one app for manual control and another app for voice control. With 300 apps a day hitting the market, having 2 apps for your security system can seem like an indulgent burden for controlling your home security system. This app resolves that issue and so much more.
What's New in Versions 7.0.0 - 7.3.0
The first thing you'll notice is the sleek new design and layout of features. As you log in your cameras take center stage. You immediately have live video feed streaming, your arm or disarmed status in your upper right hand corner and recent activity listed just below. Depending on your screen orientation, your list of devices is on the left column or below recent activity. The new design is overall sleeker, more modern and provides an easily read layout.
Sleek, improved app design with consistent look and feel across devices.
Integration with Nest: Equips users with the ability to control their Nest Learning Thermostat

directly from the new Pulse mobile app for a cohesive and intuitive experience. Current ADT customers who already have a Nest Thermostat can also link their device to ADT Pulse by updating to the new mobile application.
"Always On" Dashboard: Provides current activity within your home and business, as well as the ability to take control of what is happening next via automation tools.
Customized Visual Experience: Because the Pulse platform serves both ADT residential and business customers, the new mobile application provides a different visual experience based on the needs of each specific demographic.
Voice Commands: The new app also includes the voice control features of ADT's prior mobile application, PulseVoice, enabling a robust and comprehensive set of voice commands for ease-of-use and seamless l with only one app instead of two.


Pinch/pan zoom support for images in the gallery

New Home View icons: interactive icons show status with more clarity

Support for HD cameras: view what matters most in clearer definition
Overall the new app has a pleasing design and navigation. You see more of what's going on with your system no matter what screen you are in, and the 'always-on' dashboard lets you be in any screen and still see the current system status. Voice control and manual control from the same app is also the cure for an obvious downfall of all previous versions. You'll want to download the update today and then delete the ADT Pulse Voice App forever. ADT Pulse 7.0.0 is available for Android and IOS systems.

Related Video:
See ADT Pulse in action if you are not already and ADT Pulse Customer.
With ADT Pulse you can:
Remotely check the status of your security system
Arm or disarm your security system remotely
Get text and email notification of alarm events and emergencies
Set security system schedules

and

automations
See event history and user activity
Download iPhone, iPad and Android Apps
Manage your security system from your personalized web portal
Editor's Note: Originally published on 7/24/2015 with the 7.0.0 update. Entry updated 11/2/2015 and December 7th with updates 7.2.0 & 7.3.0. Now integrates with the Nest Learning Thermostat.