ADT Security Cameras offer major benefits for home and business owners who want to enjoy a greater sense of protection and increased peace of mind. Today's ADT cameras are more affordable and higher quality than cameras from just a few short years ago. Sharper images and access to live video feeds from any web-enabled mobile device are features that fit your lifestyle. Make ADT Pulse Cameras an integral part of your efforts to protect your family and business.
ADT Security Cameras Provide Remote Video Surveillance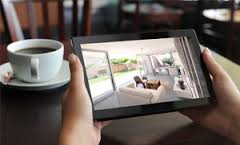 While the cat's away, the mice will play! Apparently, that applies to burglars too. Almost 60% of break-ins happen during the day while many people are at work, school or out running errands. Whether your goal is to keep the kids in line or burglars at bay, cameras ward off many evils and ultimately put the bad guys in jail. Watch these videos: ADT Pulse camera at front door catch a thief and ADT Pulse Cameras catch luxury car dealership thieves.
Here's what Andy Greenberg of Forbes.com had to say about ADT Pulse Cameras and using a phone app to access them... "Leaving town and want to keep your home safe from thieves–or worse, your teenage kid's unauthorized house party? ADT is offering customers a surveillance-state level of information about what's going on in and around their homes, now accessible anywhere that has a decent mobile connection."
You've worked hard to get to where are. You provide for your family and you want to protect them. Live video is that extra edge that keeps you intimately connected to your home or place of business. Whether you are at work or out of town on business you can access and control your ADT Pulse Camera System with multiple Devices. Even if you "can't be there" because someone is at your door during the play-offs, you can see who is at the door and even let them in from your mobile device without moving from the couch.

Here's how it works
Video is captured using security cameras located both inside and out.
The Video Gateway collects these images and saves them to a server. You can access them any time. You can also receive an instant alert that a video was recorded.
Anytime you want to see what's going on, you can access live footage and recorded videos using any web-enabled device from anywhere in the world.
As you can see, using an ADT monitored security camera is as easy as 1-2-3. When something does happen, you are backed by ADT security monitoring network for home and business security.
ADT Security Cameras are Video Surveillance with ADT monitoring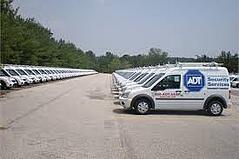 As great as it is to have constant access to live video, in a real emergency, you want professional back-up. ADT is the #1 security alarm monitored company in America. ADT is also the industry leader providing ADT Pulse Home Security Cameras and ADT Pulse business security cameras backed by the unparalleleded ADT Monitoring Center Network. Over 6 million American families trust their home and businesses to ADT. With ADT monitored cellular security systems, you are protected even if you choose not to have a land line phone.
ADT's monitoring centers offer fire protection, flood protection, carbon monoxide detection and security monitoring. They dispatch the Fire Department, Police Department or medical personnel depending on your emergency. Although having video of an attempted break helps authorities prosecute crime, seeing your business catch fire while you are at home is of little comfort without the Fire Department being immediately dispatched. Business and home security cameras help you keep track of what's happening, knowing that ADT is right by your side keeping track as well.
ADT Monitored Security Cameras – Learn More Today
Choosing an ADT monitored system with surveillance cameras keeps right in line with what matters most; keeping your loved ones safe. Your ADT Pulse Camera system is the tool you use to:
Keep an eye on the kids when they're home alone after school or at night, or watch the baby while you get things done around the house.
Keep an eye on your business when you're not around.
Keep an eye on vacation home, 2nd home or additional store locations when you aren't there.
Monitor adherence to company (or household) procedures.
Prosecute burglars, shoplifters, vandals or even a curfew breaker.
ADT Pulse Cameras are a part of our ADT Pulse Level II or III monitoring. It's a wireless camera system, meaning that they communicate with the hub via a wireless signal. However, so you aren't constantly replacing batteries, they have a power supply that is plugged in. Many front door cameras can be run to a garage outlet. Bookcase cameras can be plugged in close by which allows you to move them if you decide to monitor a different area. Make security cameras and video surveillance an integral part of your ADT monitored security system.