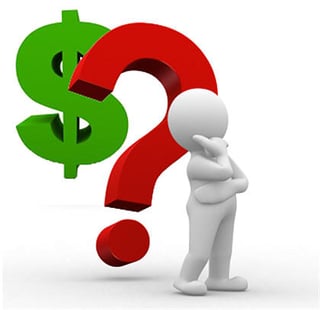 There are multiple things to consider when it comes to the cost of a security system. When shopping for a home security system, you will find the initial cost of equipment and installation from $0 to a few thousand dollars. There are monthly monitoring rates anywhere from $25 to $75 a month. So what makes the prices so different?
There are four things to consider when you look into the ADT cost of a monitored home security system. Let's look at how much an ADT monitored security system costs.
Initial Cost of Equipment and Installation
If you want a standard security system panel with one keypad, all your doors armed, a motion sensor, siren, battery backup, a key-chain remote with a sign and window decals you will typically get the equipment package for free. ADT cost for installation will be between $99 - $199 depending upon what type of security panel you get installed.
Beyond the free base package you can add additional security equipment including window sensors, motion sensors, glass-break sensors, monitored smoke/heat detectors, carbon monoxide detectors, keypads and key-chain remotes. Many people are adding a front door camera and some are ordering multiple indoor and outdoor cameras. We also offer home automation devices that are becoming very popular including automated door locks, thermostat control, lighting control and garage door control.
Since we customize every package the initial price varies for each ADT customer. Most people get the base package with a few additional upgrades and spend around $500 - $800 for installation and additional equipment. Some of our customers invest a few thousand into their security systems and have a significant amount of equipment, cameras and home automation devices installed throughout their home.
ADT Monthly Cost for Monitored Home Security
The monthly monitoring service price ranges from $36.99 - $60.99 a month.
About half of our customers get ADT Pulse with remote interactive service at $49.99 a month, our best valued monitoring package. Becoming more and more popular, at just over 40% of our customers, is our $59.99 security package that adds video and home automation monitoring. ADT Pulse cost for adding two way voice to Pulse level 3 is just one dollar at $60.99.
Less than 5% of our customers get standard phone line systems starting at $36.99 a month. Most homeowners no longer have a standard phone line or are seriously considering eliminating it. Find a cost per month for under $29 for ADT Monitoring… buyer beware… standard phone line system with NO Warranty!
The Length of Your Contract Term
The contract term can certainly be a factor that impacts the total cost of your security system. ADT in California has one of the shortest contact terms of just 24 months. Most of the industry has a 36 month agreement and some have up to 60 month agreements.
It amazes me that people will lock themselves in with some of our competitors for 5 years at $75+ a month. Sure you get a lot of free upfront equipment, but you signed a contract for $4,500+. For most, having a shorter contract term gives you comfort and flexibility.
The Cost of Servicing Your Security System
The cost to service your security system can make a dramatic difference to the overall expense of owning a security system. ADT has one of the best residential warranties in the security industry. All parts the parts and labor are included in the warranty for as long as you have ADT's monthly monitoring service. The only cost to you is a $25 trip charge per service. Any service needed for the first 90 days is entirely free.
In the past, I was a Regional Director for another local security company in California. We charged you significantly for the initial cost of the system but the monthly monitoring was the cheapest in the industry with no contract term. However, my highest profit center was our service department because you paid for all new parts and labor. Most companies who charge you for service will collect a minimum of $400-$500 for every service call. This can significantly add up over the years.
Compare the ADT Cost to Our Competitors
Most of our competitors are going to charge less per month for monitoring. Most homeowners in the United States trust ADT Security to be their best choice so the main way our competitors earn some market shares is by lowering the cost. Most customers still feel a few dollars more a month for ADT is far worth the peace of mind they receive going with the most trusted name is the security business.
Approximate 5% of the customers want to save money by installing a DIY (do-it-yourself) security system. Of course it will be less for parts and the monthly service will be lower as well. You get a system shipped in a box and will be responsible for installing your system, as well as servicing it.
For the most part, when you add up the initial cost of the equipment and installation, the monthly monitoring service with the contact term and the expense to service your security system you will pay very similar amounts for a professionally installed monitored security system. So go with the company you are most comfortable with and trust.
BONUS TIPS:
Make sure to check to see if your city requires an alarm permit and if there is a fee. You can look into false alarm ordinances of your city and what those costs would be as well.
Check into the potential savings on your annual homeowner's insurance for having a monitored security system (may get more of a discount for adding fire monitoring).
Call today to find out more about your security options 1-800-310-9490.