How I know personalizing your ADT Pulse Web Portal is easier than baking a cake...
Yesterday afternoon, I finished up a series of blogs that I've been really wanting to make available on the website. It was several "how-to" blogs with step by step instructions for fully automating your home. Of course they included screen shots, instructions and most have videos. In this series, I basically will hold your hand as we tippy-toe through customizing your home to meet your needs.
Check out this video to see a bit of what following all my "step-by-steps" will produce. This video captures some of the amazing capabilities of a Pulse system... the home automation capabilities. The ability to tell your home what it needs to do with your lights, thermostats, cameras and so forth is what makes a Pulse system the system that will stay relevant well beyond 2015.
Sadly, statistics show that many ADT Pulse customers plan to personalize their system but never do. Busy lives get in the way and setting up home automation is probably new territory for you as well. Hence the thought behind step-by-step how-to articles to help.
Now back to yesterday. In the evening, because two of my closest friends have birthdays this week, I set out to make a pretty intense cake. Since I home school, I decided to turn the cake preparation into a chemistry/math/home economics lesson for my 5 and 7 year old. You know, 2 birds, one stone. I selected a pretty show stopping cake for the project. (Truly! It's pretty show stopping, check it out here.)
Now let me reminder you, I just spent a few days reviewing, explaining and creating screen shots of how home automation is set up. So I am 2000% sure that all that is involved is figuring out what you want it to do, clicking the big "CLICK HERE TO ADD A NEW ONE" button and then selecting from pull down menus and clicking and un-clicking boxes. But I am not you. No one is paying you to figure it and show others. Hence the dilemma...
Here is my analogy... hopefully it will entice you and convince you to set up just one little home automation, realize that it is actually pretty easy, then continue to make your home automation fantasies come true. Maybe you'll just set the thermostat to lower when the alarm system is armed or set a light to come on Monday through Friday so everyone comes home to a well lit home. It's entirely your decision.
But back to my cake story. That's my good friend below blowing out the candle on that beauty of a cake. Now this isn't a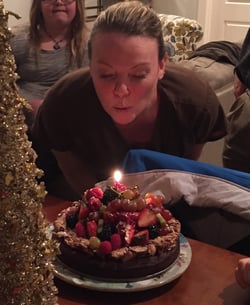 boxed cake. My kids had to chop some chocolate, melt it with some butter, cool that. Separate eggs then whip up some egg whites into a fluffy meringue. Then sift the dry ingredients and gently fold it all together.

Mind you, little ones don't want to gently fold. Beat the heck out of it... sure, gently fold; not so much. This particular cake also has a two step baking process, sounds fancy but you just bake for a few minutes then poor more on top and bake some more. Nothing challenging, just another step.

Basically, they had to methodically follow some simple instructions and trust the process. And honestly, I don't bake much with my kids because, well... busy lives get in the way and it's new territory. (Sound familiar?)

I think the finished product was quite impressive, but I might be biased. At the very least, the kiddos learned a bit about baking, math and science.

(BTW, the secret to great meringue is cleaning the bowl and beater with a little white vinegar to assure not a drop of oil, water or fat touches the egg whites... shhh, that's an insider secret.)

So driving home tonight, thinking about a couple of edits on the actual "how-to" blogs, I think, "If someone can bake a cake, they can set up one fandangel of a home automation system." And I would know, I not only played with all manner of setting up functions for a week, I then helped some high energy kids produce that cake over yonder. Hands down kids and cake was harder.

That's my pep talk.

You probably do a zillion things a day that seem intimidating to someone else. But it's one simple step after another simple step and then it becomes an easy process. I hope you are encouraged to start making your ADT Pulse system, exactly that... YOUR system. I hope this was fun to read, it was sure nice having more of a conversation after a week of producing some of the more technical blogs for you.

Now, set aside 10 minutes before bed tonight and poke around with your system, even if you just peek inside your web portal and see what's in there. Let's knock your significant other's socks off by having the house do some cool thing like start the coffee maker before you get out of bed or take the chill out of the air. Better yet, show how your life can actually be saved by setting the lights to come on if a fire is detected so you can see your way to safety.

Here are the infamous how-to's below. Start with the how to on "Modes." It covers all four actions and you can always reference the others if you'd like a bit more step-by-stepping it. If you get stuck, comment below and I will guide you through. If you have a question before you start, put that in a comment below too. And if you like our cake, we wouldn't mind hearing that either.


Bonus material my geeky counterparts:

If you are not yet experiencing ADT Pulse for yourself, schedule a FREE security review today! Call 1-800-310-9490 or just click below and we'll call you.