Five months of ADT monthly monitoring costs is what Anthony A. and his beautiful wife of beautiful Napa, California are winning just for liking us on Facebook. For one like, we're covering several months of their monitoring costs. They were excited to say the least when they got the phone call. You could be next! Or you can take things into your own hands and refer a friend. We offer a $200 reward when you let us know about someone that installs a system because you told them about yours.
Will we be paying your ADT monitoring costs soon?
For every 500 new likes on Facebook, we will pick one lucky winner that receives a dollar for every ten likes we receive. That's $300 when we hit 3000 likes. Stay tuned for the big 3000! Make sure that you pick your local Facebook page and give us a "Like." Not only will you receive a chance to win $300, $350 and more, you will receive community security information, tips to stay ahead of local crime trends and news on the latest security gadgets.
If you live in the greater bay area, Like our corporate site here. For the extended Los Angeles area, including Inland Empire, Orange county and up to Bakersfield, Like our Los Angeles Facebook page here. For the Sacramento area, Like our Sacramento page and finally, for San Jose area crime and news, like our San Jose Facebook Page here. A Visa gift card with your name on it, might be headed your way soon.
Pay Your ADT Monitoring Fees with Referral Rewards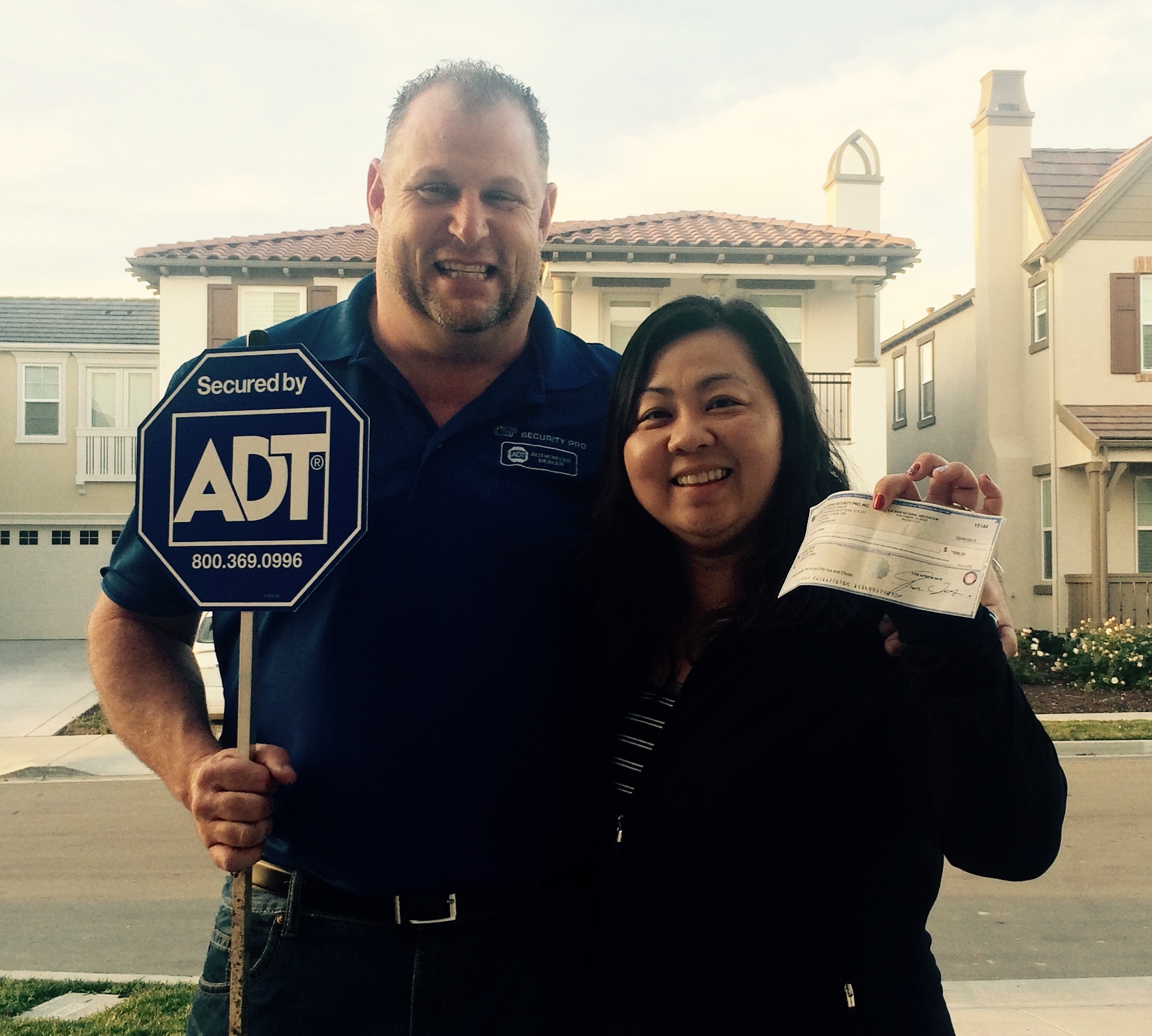 Meet Sinh Sinh of San Ramon. Sinh Sinh can paying an entire year's worth of
ADT alarm monitoring
with her $600 check. After installing her
ADT Pulse system
, three friends were impressed enough with her system to install their own.
Her representative Kyle Madison decided to hand delivered her check and snap a selfie.
In late 2014, we raised our referral reward from $50 to $200 after realizing how many clients were sending their friends and family our way. We certainly feel that $200 is a more suitable sign of gratitude for our wonderful clients that trust us with their loved ones. Sinh Sinh definitely didn't complain.
So when a friend compliments your cool security system or expresses their concerns about crime statistics, we promise to take as good care of them as we did with you, and we'll show our appreciation with a gift card.
There you have it. Two ways to have us pay your ADT monthly monitoring.
Call us at 1-800-310-9490 to refer a friend, coworker or family member.
Who do you know who has recently moved, opened a new business location or experienced a crime in their neighborhood?