Your ADT monthly monitoring fees are the monthly cost associated with an ADT alarm system for ADT security monitoring services. Here at California Security Pro, we offer you packages that include an equipment and labor warranty for the life of your home security monitoring service. Whether you are activating an existing system or selecting a new system, your options include Standard, Cellular or ADT Pulse monitoring service . Over 70% of our customers are getting an ADT Pulse monitoring package. Let's look at what comes with each of the security monitoring service options:
All ADT Security Monitoring Service Plans Come with a >>> FREE* Home Security System
All the above packages come with the option for ADT's Two-Way Voice Connect Monitoring Service called SecurityLink. SecurityLink provides you with speakerphone connection to ADT when a alarm is received by ADT, allowing for voice communication during an emergency. This creates higher level of priority response by audio verifying an alarm event, helps reduce false alarms and gives you hands free communication with ADT Central Station Operator in emergency events.
ADT offers unparalleled monitoring with six UL listed, state of the art monitoring centers located across the continent. The vast majority of companies have only one. What does that mean for you? It means that you are protected by six linked centers. If one is hit by a natural disaster, or inundated with calls during a natural disaster, you are seamlessly protected by five more!
What about Lower Home Security Monitoring Fees?
As a consumer, you want to know why something that looks the same can cost double and triple the cost from place to place. Here at California Security Pro, we have decided to only offer the monitoring that makes sense and offers value over the life of your system. We do price match, so if you see an advertised ADT price that is different, it's definitely an option for you. However, I think you'll agree that our pricing offers the best value. Let's look at some of the reasons for different price points:
Monthly Monitoring Below $20: The majority of monitoring agreements at this level are DIY home security kits. While these can be an option for people technically familiar with security, it can be a nightmare for those who are not. They do at least come with a 30-60 day guarantee if you run into problems and need to return it. With DIY kits, you decide on the coverage that sounds good and order it. You pay full retail cost up front. The selling point is that a lot of people will be able to do a very quick install with minimal technical skill. There's a "set-up wizard" type process and presto... home security. It's a pretty nifty concept. The thing to consider is the support when things don't go as planned. You get a great deal because you do it yourself, but most often there is no technician to come out for a problem. You are also the service technician. Some companies do contract out for services, and we all know that some contractors are great and many just are not.
Monthly Monitoring at $20 - $25: Many smaller companies or new companies get a foot in the door with lower monitoring. Things to beware of are "after-hours" pricing when you need service, hidden fees and stripped down versions of monitoring with sketchy to no warranty. The scariest issue here is no warranty. If you have had any service to your home lately, you know it's $40-$125 to knock on your door. $60-$95 an hour labor and diagnostic, then parts. That can equal 6 months of monitoring fees to have a technician knock on your door once a year, yikes!
Monthly Monitoring at $27.99 and above: At this level you are gong to find a very basic security system and most likely it will be a standard phone line system. It is important to find out what is NOT included. ADT monthly rates start at $27.99 (basic standard phoneline system without warranty). There is no extended equipment warranty on basic monitoring at $27.99. You also do not receive a keychain remote, get less free door/window sensors, no cellular backup and you will not be able to use your mobile devices to connect to your security system.
The average security system service call will cost you $300 plus without the warranty. The ADT residential warranty works like this: Service calls 90 days from the installation date are FREE, after 90 days, when you have a technician come out, it is $25. If they needed to replace the entire panel due to malfunction and it required a few hours of labor, it's $25. They might secretly wish for coffee is it's early, but nothing more than $25.
The pricing listed at the top denotes the differences between each of the ADT packages. The links take you to detailed information on each feature. Two-way voice for example is seldom explained in full but it's an amazing feature. It's vital for families with children or seniors citizens with serious health issues. As the saying goes you get what you pay for, so make sure you understand what is included and what is not included in the home security monitoring service you chose.
Beyond the ADT Security Monitoring Prices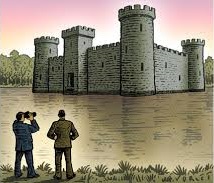 Not many people decide to invest in home security as a back up plan while they build a moat so that they can protect themselves. Most of you are looking to have a security system for at least the foreseeable future, right? With California Security Pro celebrating 15 year in business this year, here's what we have learned from our clients. Although it is a factor, the price tag ultimately isn't what makes them happy or gives them peace of mind. Here's what customers say about why they choose and stay with California Security Pro and ADT monitoring. They're shortened for convenience but feel free to click the link and read the entire review:
Any savvy shopper will, and should ask, "How much is ADT going to cost?" Just like any investment you will ever make, the cost is one of the variables weighed in making a purchase. We believe you will agree with our over 20,000 current clients that your overall value decides best decision. When you look at the monthly monitoring fee, over 130 years of experience from the company that invented home security systems, unparalleled monitoring service and a local company that is dedicated to providing you the best experience available, we believe you will agree that California Security Pro is the company to protect you and your loved ones. Once we have made you a raving fan, we reward you with a $200 when your friends and family love your system and call us to get theirs. ADT corporate offers you $50. For a FREE In-Home Security Review call us at 1-800-310-9490.