Now that you are either decided on an ADT Pulse system or up and running with your new ADT Pulse system, you will want to start customizing the home automation aspect of your alarm. A common feature to start with is a simple schedule, something most people are already familiar with. Many features of your home that you now have on a schedule or a timer can be automated to work with your ADT Pulse alarm system. Any device in your system can be scheduled to perform events at specific times, on specific days or in specific modes. Devices like the lamp / appliance module also allow anything plugged into the appliance module to as well be be assigned to work on a schedule.
For this example, we will first walk through setting up a simple lighting schedule that to lock the front door every night at 10pm. This might be great for someone that forgets to lock the door at night or teaching a lesson to the teenager that forget to come home before curfew. For a bit more of a tutorial, we will then set up a schedule for the lights to come one and then turn off 30 minutes later at random times throughout the day when we are on vacation.
Your ADT Pulse Log in to Your Web Portal: The Key to the Personalized Home Automation
When you Log in to the Web Portal you land in the Summary Tab. This gives you a quick overview of your entire system. You will find "Today's Schedule" in the lower, right hand corner of the screen below your cameras thumbnails. Any schedules you have already set up that apply to today will be listed here. Click on the "Schedules" Tab to create a new schedule. Your screen will not look like this:

Click the Blue "Add Schedule" button to create a new schedule. You will get the "Add Schedule" pop-up: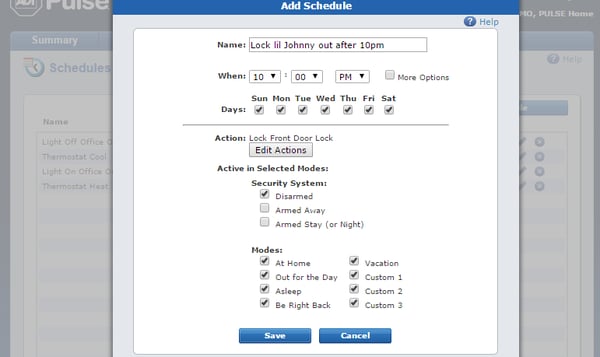 To schedule locking the front door every night at 10pm. We would fill out this box as follows:
Name: Lock Lil Johnny out after 10pm.
When: 10:05 pm (we'll give him 5 minutes past curfew before lock-out, shhh, don't tell him)
Days: Sunday through Saturday
Action : Lock Front Door Lock (Click "Add Action" select from drop down menu)
Active in Selected Modes: Disarmed
Modes : All selected.
Click "Save"
That's it. One window, click some boxes, select from a pull down menu and slap your desired name on it and you have schedules the front door to lock every night at 10pm. You could repeat the same steps for the back door if you like. There are specific things that each device will do, just check your pull down menu under "Actions" to see what can be scheduled for each device. It's pretty basic; cameras take video clips and pictures, door lock and unlock, etc.


Example #2 Setting up More Complex Schedules and Assigning ADT Pulse Modes
As promised, example #2 is setting up a schedule for the lights to come one and then turn off 30 minutes later at random times throughout the day when we are on vacation. EG: Setting up the Vacation Mode. (Yay, we are going on vacation!)
It starts the same; go to the "Schedules" Tab and click "Add schedule" and here's what we do this time: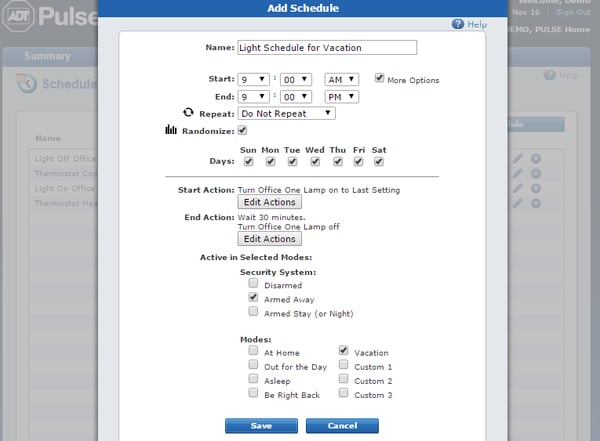 Here's what we do for this one:
Name: Light Schedule for Vacation
When:(clicking the "More Options" box next to when gives you a start and end time, a repeat option and a randomize option, and adds a start and end action instead of just an action)
Start: 9:00am
End:9:00pm
Repeat: Do Not Repeat (If you do repeat, select how often, every hour, every 5 minutes. If you repeat, you cannot randomize, it's one or the other.)
Randomize: check the box.
Days: Sunday through Saturday
Start Action: Turn office lamp to last setting (this turns it to your last setting, probably your regular setting of 100% or 75% for energy savings. You could also just say "turn office lamp on")
End Action: Wait 30 minutes then Turn Office Lamp Off
Active in Selected Modes: When the system is armed to Away
Modes : Vacation Mode
Click "Save"
So not so bad here. Even with a fairly complex request, it's just a box with several options and you select the ones that you desire. Under the "Actions" area, after you select each action, you have the option to "Add Another Action" so you could turn several lights on and off or possible turn the lights on and take a picture of the driveway to assure that your classic hot rod isn't being driven away while you're sipping a Martini.
Schedules that Might Surpsise You
Home Automation is all about taking a system and bending it to around your life. Here's a few schedules that might surprise and delight you.
Your sprinkler system. With California residents on highly restricted water use plans, placing a standard sprinkler timer to always on, then plugging it into an appliance module will let you set your watering schedule through your ADT Pulse Web Portal. Like all schedules, it will run fully automated yet, you have the options to check in with any mobile device and manually switch it off or on. Do this anytime of day from anywhere you and your mobile device go.
Home Theater. With your power strip run through an appliance module you can schedule it to power down from midnight to 6am and cut out the power drainage. If you or your man is as techy as my husband, that's shutting down 10 components that even in standby mode are pulling a small amount of power each while the family sleeps. That's every single night of the year... it's gotta add up.
Coffee Maker. Warning: this only works with a coffee maker that is activated simply by plugging it in or connecting it to power. Again the amazing appliance module takes whatever is plugged into it and you can toggle the power through your Pulse system. Schedule power to your coffee maker 10 minutes before your alarm and wake up to the smell and taste of fresh coffee.
That's a few ideas that will hopefully get you thinking out side of the box and personalizing your home automation to the way you travel through his world. My personal favorite is laying in bed, realizing it's colder than usual and turning the heater on from my phone.
Putting it All Together: Automations, Modes and Alerts
You're all set. Go set up a schedule today. It's easy. In fact nothing about the ADT Pulse system is hard, it's mostly pull down menus and clicking boxes to decide what option you want and when.
The exciting stuff is combining schedules with other function that create a "The-world-revolves-around-me" system. Because your home's automation is all about you! So you now have the front door locking at night. Let's say you really do have the wayward teen that will swear they got home at 10:06 and you're making a mountain our of a mole hill. You might want to set up an alert that sends you a text message so you know what time they really unlocked the door and came in. Click that link and learn all about text and email alerts. You can also email the pictures of your hot-rod to your cell. No better way to relax and really enjoy your Martini than knowing that "Elanor" is safe in the driveway unharmed.
Also read up a bit on setting up modes. That vacation mode can have a few more things scheduled, and can alert you of more than teens and cars. There are also automations you can tie in. An automation is something that is triggered by another event. Have the thermostat heat things up a bit if the temperature falls below 40. You sure don't want pipes freezing and bursting while you are away. If the front door camera detects motion near the door, you might want it to take a video clip and sent it to you (send you a text or email alert.) Learn all about setting up automations here.
If you are not experiencing ADT Pulse, schedule your FREE security review today!
Related Articles and Videos :
See it all in action! ADT Pulse with Home Automation:
Setting up text and email alerts with ADT Pulse. - Learn how to tie in a text or email alert letting you know exactly when an event happens and more importantly, giving you real time data so you can respond appropriately.
How to Set up ADT Pulse Automations with Your Personal Web Portal - Learn how to have one event trigger one or more other events.
Setting up Modes with ADT Pulse - Designate your automations, scheduled events and alerts to happen in specific modes and cause multiple actions to occur by clicking on one mode.