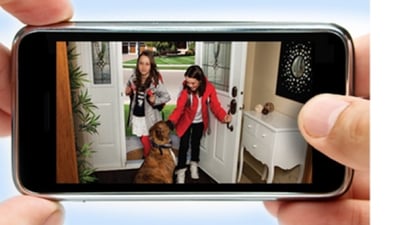 You have to admit, when you walk into a building covered in surveillance cameras, you think twice about actions as silly as dropping your gum wrapper on the floor. Cameras tell you and me, that we are being watched, it is being recorded and someone could hold us accountable for the actions we are taking.
That threat has amazing benefits, I've mentioned before that our cameras made for a very short lived lying phase in our 8 year old. One look at the facts of who actually stole Sadie (the stuffed dog,) and he was forever convinced that the truth was on tape waiting for us to verify his story if need be.
But does that make the costs associated with video surveillance actually worth it? We decided to verify if our clients actually feel the cameras are worth it and why. Many originally felt on the fence when deciding to invest in security cameras or not. Our clients tell us they have found that preventing crimes, raising the chances of catching a burglar AND the every day use that ADT Pulse Cameras offer, make them well worth the investment!
Read on for the reasons our clients find that the investment is well worth it.
Prevent crimes before they happen with real time video surveillance.
Most people know that cameras raise the probability of the criminal being caught and prosecuted. Cameras provide a face and sometimes additional information like a specific vehicle and license plate number. Information that ties the burglar to the crime. What you might not realize is that cameras help prevent the crime before it can happen.
Interviews with reformed burglars show they are looking for the easiest target AND the highest probability of not getting caught. Surveillance cameras tell thieves they are being recorded and that you take your security serious. Cameras prevent burglaries these 2 ways:
#1.) You can deter crimes by seeing what's going on when you are not there. Viewing several 30 second clips of actual events is much less daunting than scanning all the video of while you were out. Because you are more likely to view several short recordings, you will see the shady guy that is "casing" your home. Community sites like nextdoor.com are set up to help communities be in the know with their neighbors. Garage sales, construction and YES, crime trends and creepy folks that should not be in the community can be shared instantly with your neighbors. Knowing that there is odd activity helps everyone be alert. You can also notify authorities and have a few extra patrols on the look out. Clips can be emailed and texted to you the moment they are recorded and are automatically saved to your web portal.
Related Article: ADT Pulse Front porch camera catches diaper thief (using nextdoor.com)
#2.) Video Surveillance Cameras deter crime just by existing. Because a burglar is looking for the EASY house and to not get caught, the moment you install a camera your house is a bit more intimidating than the house that does not have surveillance cameras. Neighborhoods with higher percentages of security systems and cameras have lower instances of crime.
If you'd like to get more information on pricing for cameras in your home, give us a call at 1-800-310-9490 or click here and we'll call you.
Use ADT Pulse surveillance cameras every day and add value to your life.
Your standard cameras will record activity and allow you to watch a play back. That alone is pretty exciting and can provide a hefty dose of peace of mind. More and more, you will see cameras that record based on motion and you get video of actual events, not hours of grass blowing in the wind. For many, that saves the headache of scrolling through hours and hours of video if you'd like to view a specific event. It is also increasingly easy to find cameras that allow you to view remotely from your mobile device. This allows you to check in and see that the kids are home or that the dog sitter is arriving on time. All these features make cameras more in tune with how you live your life and make it more realistic that you will get the most out of your cameras. However, ADT Pulse Cameras go above and beyond others on the market.
What if you'd like to verify the kids are home or the dog walker arrived? And you don't want to have to remember each day and manually check the video feed? What if your cameras knew what events you want verified and texted you to say that it did or did not happen. ADT Pulse does this and more! Here's just some of the ways an ADT Pulse system with cameras offer you every day uses.
Set Automations - Whether you are a novice with home automation or an old pro, you'll be using automations to tell your system what you want it to do automatically with your cameras and more. Automations tell one device to do something because another device had an action. So you can have the camera record a video clip because the front door opened. That way you see a clip of every person that walks through that door. Now other devices in your home work with your cameras.
Set Alerts - Alerts notify you via text or email that something happened or did not happen. Use alerts to know that a package was delivered or that the dog walker took Fido so you're not going to find a doggie surprise when you get home. Also use alerts to find out things like little Johnny did not get home from school by 4pm or simply to verify that he is at the table doing his homework by 4:30 and the TV is not on while he does it. With an alert set, you don't have to remember to check on these things, your system will verify for you. You can focus on what you need to.

Set up Modes

- Modes allow you to set pre-determined routines that happen when that mode is activated. For example, you might want alerts and video clips of certain daily activities when you are at work and completely different ones when you are out of town. When away on a business trip you might just need a video clip sent of your beautiful 67 Shelby Mustang every night so you can sleep knowing it is still safe in your driveway. Modes allow you to have up to 8 different sets of rules pre-set and activate them simply by setting your system to the appropriate mode.
With cameras popping up everywhere and advances in technology making cameras a very affordable option, video surveillance deserves serious consideration. ADT Pulse cameras make cameras a logical next step for many people. The price tag to add cameras is a few extra bucks a month and the current special gives you your first camera free to help you get started.
An additional bonus is the ability to add more cameras as do-it-yourself projects. So if funds are keeping you from investing right now, we'll give you one and you can simply add them yourself down the line. It's super easy!
If its time to look into cameras for you, give us a call today at 1-800-310-9490. If you are still on the fence, feel free to have someone come out and talk to you about your options. It's not only FREE to you, it's also free of obligation.
Set up your FREE in-home security review here.
See what others are saying about their Video Surveillance Systems
With sites like Yelp, you don't have to guess how a company treats its clients. We're confident you'll find we take excellent care of our customers and provide excellent customer service. Take a look at what a few of our camera customers had to say about us and their new camera systems:
"I started the process of upgrading my 23-year-old hard-wired home alarm system with maximum trepidation. The house situated in the Oakland Hills is fairly large with wrap-around decks and frankly a nightmare to provide maximum security. The company that did the initial instillation 23 years ago concurred: Despite multiple phone calls, they failed to send someone for an upgrade review and never followed up with my phone calls. I had the great fortune of being referred to California Security Pro by my State Farm insurance agent. My good fortune continued with meeting up with the East Bay business manager, Fish Araya. This gentleman promptly returned my phone call, set up a home inspection within 48 hours. He was punctual, courteous, professional, and efficient. We were able to put together a system that piggy-backed on my hard-wired system and added 3 cameras for 24 -hour, motion triggered and real-time PRN monitoring. The 24-hour monitoring is provide by ADT, the national company. The best is yet to come. When I had concerns about the initial installation plan, Fish showed up with the installer who did a bang-up job. The installer, named Carl, was quiet, extremely knowledgeable, courteous and went the extra mile: he swapped my old motion detectors for cameras (wiring was still in place), set up wireless motion detectors all over the house, placed an additional window sensor in a crucial location (the wireless pulse technology allows you to add multiple devices through a home wi-fi system) and connect all this to the internet for remote monitoring. Carl also did some rewiring of my crawl space (under less than idyllic conditions, I might add) connect the alarm box to the Netgear modem/router. As if this were not enough, he reprogrammed all 30 old and new stations (including fire sensors) and took the time to show me how I could monitor my system on the web through my computer or app for my phone. Everything is working perfectly.Bravo Fish and Carl. You are the best. Also kudos to California Security Pro and ADT. One last thing: Fish provides fabulous post installation service! He promptly returns all calls. This is bliss. Jacques Hirschler - Jacques H.,Oakland, CA
"Brandon Tomas came to my home this past Wednesday, in the late morning. My installation was completed yesterday, on Friday, by Hector. In this day and age it is virtually impossible to have anyone come to your home by appointment for anything without having to wait at least a week!! And the service provided by both of these gentlemen was absolutely unparalleled. Brandon was incredibly polite, professional, and enthusiastic about providing me with additional peace of mind knowing that my family and my home would be more secure. He visited on the day of the installation while it was in process, and came back again when it was completed to make sure I knew how to operate the system and that I was satisfied with my purchase. I have not encountered this level of customer service before -- ever. Brandon was truly the best, in every sense of the word. Hector was my installer and again, the service he provided was outstanding. There was a system installed in this home prior to my purchase, and nearly every window and door in the entire house was wired. Hector took the time to carefully ensure that each connection was identified and accurately represented in the new ADT system, upgraded my system software, installed new keypads, new fire/smoke detectors, and additionally added motion sensors and cameras where I needed them. He worked until 10 PM, determined to get the job done... correctly and to my satisfaction. Again, this type of customer service does not exist anymore. Outstanding work, Brandon and Hector. 5+ Stars for both. I would refer anyone to California Security Pro, both for their product and for the service provided by professionals like Brandon and Hector, who represent the company to consumers here in the Bay Area. - Christopher M.
That's just a couple, see all of our reviews on our Yelp site here, or just our camera reviews here.
If cameras are calling your name or you'd just like a bit more information, feel free to give us a call. You'll talk to a live human at 1-800-310-9490 or click below and set up your FREE security review for your home and business.