The post will address the top 10 questions asked about a DSC 9057 panel. This panel can be (or might have already been,) a part of you FREE ADT Security system.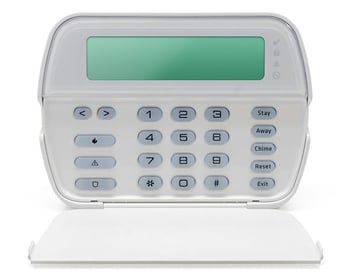 For those who are having or have had a DSC 1832 installed, questions are bound to arise or re-arise later when you decide to use a feature you have not been using. Here are the top 10 questions and answers to help you comfortably navigate your new ADT investment. If you are looking for similar blogs for DSC 9057 panels it's coming soon! For the top 10 questions for a Honeywall Lynx Touch, click here.
Here's the questions we'll cover:
How do I arm my system?

How will I know it is armed?

How do I arm with no delay or "instant?"

How do I disarm my system?

How do I turn chime on and off?

How do I bypass a zone?

How do I program additional user codes?

Do I need to arm my ADT Smoke Detectors or ADT Carbon Monoxide Detectors.

How do I view past events?

Can I adjust the volume?
BONUS Question:
How often should I test my system?
If you have further questions, you can find the user manual for your system here.
#1. How do I arm my system?
To ARM the system:
Secure all doors and windows.
Green READY light or check mark should be on
Then, for Arming the system then leaving the property:
Press and hold the away button for 2 seconds

Enter your 4-digit-code or press and hold AWAY button.

Red ARMED light should be on and beeping

Immediately exit through a delay door.
For Arming the system and staying:
Press and hold STAY/HOME button until it beeps.

Enter your access code

Red ARMED light should be on (no beeping)
#2. How will I know it is armed?
The armed indicator (Lock icon) indicator will illuminate when the system is armed.
#3 How do I arm the system with no delay?
When arming to stay or away, the "Instant" feature deletes the entry delay time programmed for you to get to your keypad and disarm the system. This is a great way to arm when you are home. Just remember to disarm before answering the door or everyone will be "alarmed!"
To ARM the system in INSTANT mode - no entry delay
Secure all doors and windows

Green READY light or check mark should be on

Press the * button then the 9 button.

Enter your 4-digit USER code.

System is immediately ARMED with NO DELAY.
Note: The entry delay time is eliminated when "Instant" is selected.
#4. How do I Disarm My System?
To DISARM the system
Enter building through a delay door.

Control station will beep to remind you to disarm the system.

Enter your 4-digit code.

Red ARMED light should go off.
#5 What is the difference between Stay and Away?
Stay is used when you are going to be home and want to arm your system. Generally, stay activates all of your doors, windows, and glass-break sensors. This allows you to have the safety of an armed system and still walk though the home without setting off the alarm.
Away is generally used when you are away. It activates all of your sensors. There are circumstances where you would want to NOT use away when you leave. One example is if you own a large pet and have motion sensors in the part of the home where you large pet will be moving around. In this situation, you might reserve away mode for when you are on vacation and your pets are not there.
#6 How do I turn Chime on and off
If you are not familiar, chime is a great feature. It makes 3 beeps when a door is opened while the system is disarmed. The system will also announce what door was opened and display a "faulted" Zone on the home screen. Selecting "zones" will display what door was opened. This is an asset not only against crime, but if your toddler is learning how to open doors, having a beep when no doors should be opening or closing, can alert your of an escape attempt in progress.
The Chime mode can be turned on by following these steps:
Press and hold the Chime button for 2 seconds. The system will sound 3 beeps to indicate the door chime is on, or one long tone to indicate that door chime is off.
#6. How do I bypass a zone.
You might want to bypass from time to time. Say you are home working upstairs and want the downstairs armed, but not the upstairs motion. You can bypass just that zone so the whole home is protected with the exception of where you are working.
Bypassing a zone:
Press the * button then the 1 button.

Depending on how your system was programmed, it might ask you to enter your access code at this point.

Press the 2-digit zone number (01, 02, etc.) to bypass.

Press the # button to return to the ready state.

Arm the system in STAY or AWAY mode as desired and that zone will be bypassed.
#7 How do I program additional user codes?
When your system is first programmed, you will choose a Master User Code. This code can be used to program up to 16 additional codes. All codes can be used interchangeably when performing system functions (a system armed with one user's code can be disarmed by another user's code), with the exception of the One Time user and Duress Code described below.
One Time User Code - This code permits temporary access to the system for a 24-hour time period. During the 24-hour period, the temporary use may disarm the system once. There is no restriction on the number of times they may arm or set the system

Duress Code: This feature is intended for use when you are forced to disarm or arm the system under threat. When used, the system will act normally, but can silently notify the alarm monitoring company of your situation. The Duress Code is useful only when the system is connected to an alarm monitoring company.
Programming a new user code:
Press the * button then the 5 button.

Enter the current 4-digit MASTER code.

Enter the 2-digit USER code (01, 02, etc.) you wish to change or the number of the new code you'd like to add. You can also scroll to find the code.

Enter the new 4-digit USER code.

Press the # button to exit programming.
Note: panel must be disarmed to program codes. All codes will automatically be secondary codes.
Here is how to assign a your Duress Code:
Press the * and then the 5 button.

Enter master code.

Type in 10, you will see four a's.

Enter your code.

Press 9.

Press the right arrow.

Press star.

Press # to exit or it will time out after about 15 seconds.
.
#8 Do I need to arm my ADT smoke detectors or ADT carbon monoxide detectors?
No, these sensors are armed 24/7 and cannot be disarmed. When smoke or carbon monoxide are detected, the installed smoke, heat and/or carbon monoxide detectors will automatically activate your security system, triggering a loud, intermittent sound from the touchscreen. The sound will be interlaced with the voice descriptor, sounding every 15 seconds. A "FIRE" or "CO" message will appear at your touch screen and remain on until you silence and clear the alarm display.
Should you become aware of a fire or carbon monoxide emergency before your detectors sense the problem, go to the DSC 1832/1864 panel and press and hold the Fire icon for 3 seconds. The alarm will sound and an alarm will be transmitted to the central station for dispatch of the fire department.
#9 How do I view the past events:
The event buffer will show you a list of the last 500 events that have occurred on your system.
Viewing System Events:
Press * then 6 then the master code.

To select Event Buffer viewing, press the *.

The keypad will display the event number and the time and date. Press * (select) to see the specific details of an event. Press * again to return to the list of events.

Use the (<>) to scroll through the events.

To exit press #.
#10 – Can I Adjust the Volume?
Yes. When this option is selected, the keypad will allow you to scroll through the 21 different buzzer levels. A level of 00 disables the buzzer.
Adjusting the volume:
Press * then 6 then the master code.

Use the (< and >) buttons to scroll to Buzzer Control, then press * to select.

There are 21 levels; use the scroll buttons to scroll and to the desired level.

Press # to exit.
Bonus – How Often Should I Test My System?
It is an industry standard and manufacturer suggestion to test your system weekly. See this blog for instructions on testing your system.
If you don't already have a monitored security system, call today to find out about our FREE systems at 1-800-310-9490. Or you can click below and schedule a no cost home security review.