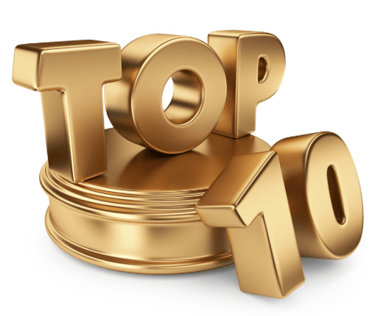 We thank our customers who are part of the SecurityPro family. Almost half of our business comes as a result of referrals and we greatly appreciate all that you do to help us continue to be a Top Ten ADT Authorized Dealer. Because of the support of our cherished customers, we had our highest ranking ever as the 9th largest ADT Dealer nationwide. There are currently 196 ADT Authorized Dealers, so it is a true privilege and honor to be among the best. Prior to 2018, we had won the 10th spot twice... so we were thrilled to have our best ranking ever.
The Top Ten ranking is based on the number of new customers installed for the year. For us, having a growing number of customers is very important to our growth each year. However, what is even more important is how our customers rate our service. We are very proud of the thousands of 5 Star Customer Reviews on Yelp, ADT Quality Customer Scores and our A+ BBB rating. For us, this is the true grade of how well we are meeting our customer's needs. The most positive compliment we receive is your referrals. To us, it means you were so satisfied with our service that you trust referring us to your friends and family. We are very grateful to you!
Because our referrals make up so much of our business and it saves us on the marketing costs to get new customers... we are able to use the savings on marketing expense to give our customers a $200 Referral Reward for all the referrals who get an ADT system installed by SecurityPro. We promise... we'll take incredible care of your referrals!
What is Next for SecurityPro >>> Nationwide ADT Dealer!
We have worked very hard to begin expanding our service outside of California. We have installed over 70,000 ADT monitored security systems in California and are now going to offer our service nationwide. We will start to offer ADT Monitoring service is most states throughout the continental United States. Last year, we opened in Seattle and are thankful for our new customers in Washington. This year we will start to expand nationwide as we have created an installation network to begin providing our exceptional service on a nationwide level. We are very excited about our future!
We'll need our referral partners help to make this a reality for us. We have confidence in you and our cherished customers to help spread the word nationwide of the exceptional customer care we offer our. One of the challenges of growth is to be able to continue offering the high level service of a local company. Because we are customer obsessed, we are focused and dedicated to bring exceptional service to all of our customers as we grow. Nothing is more important to us than having every customer we work with feeling incredibly satisfied with their experience with us. We want it to be a joyful experience!
Our job will be to duplicate the level of customer service we have provided for over 20 years. It will be our job to bring new team members onboard who are trained to have a passion for customer service, dedicated to meeting the security needs of our customers. It is in our hearts and souls to treat others as we would want to be treated. We'll just be spreading our customer obsessed culture on a larger scale.
If you know someone outside California who needs to get a monitored security system... please let us know, we would love to help them and show our appreciation to you with a $200 Referral Reward.
ADT Command and Control is Coming in 2019
ADT's newest security system and smart home mobile App is starting to be installed this year. ADT Command is the name of the security system and ADT Control is the name of the new mobile App. This will replace ADT Pulse which has been the system ADT has been using for over five years. Eventually, everyone who has the ADT Pulse mobile app... will be changing over to ADT Control.
What are some of the exciting new features of ADT Command? The ADT AIO Command panel has the most beautiful touch screen ADT has ever offered. It's sleek, modern and has style. Besides it's good looks... it also very smart! The panel has cards built in to expand it capabilities in the future. You can add AT&T LTE, Verizon LTE, Z-Wave/WiFi Module or wireless to wireless conversion module to allow the command panel to use existing wireless security devices customers already has installed in their home. The panel is built on an Android platform so updates to software can happen automatically all the way to updating security devices.
The new wireless security devices have robust encryption protection, longer battery life and there is a large variety of monitored devices available including life safety devices like smoke detectors, carbon monoxide protection and flood sensors. Besides wireless, there is also a version of the hardwire panel for hard wired systems called the ADT Command Hybrid panel. This panel will be able to control hardwired and wireless devices.
ADT Command and Control is Superbly Smart
Live and Recorded Video
ADT Video Doorbell
Indoor Camera
Outdoor Camera
Smart Home Automation
Smart Thermostat
Lighting Control
Garage Door Control
Automated Door Locks
GEO Fencing
One of the most advanced features and a significant improvement from the ADT Pulse App is the Geo Fencing capabilities of the ADT Command and Control. This really makes a difference is the automated portion of the system. You first setup a geo fence from you home... say maybe a mile radius around your property. Then you will program the system to create commands once you exit the geo fence or enter the geo fence. Some examples:
You left home and after you went outside the geo fence radius, the system will notify you that the security system is still unarmed, doors are unlocked or you left the garage door open.
When you enter the geo fence radius the smart thermostat changes to your desired temperature so you are nice and comfy when you get home.
Getting a notification is great, but what is even better is that it allows you from your ADT Control mobile App to act upon a notification. Once you exit the geo fence radius you set up and the system sends you a notification that you left your garage door open... it will then ask you if you want to close it. Hit yes and it makes it happen. This makes home automation and control super user friendly.
SO... when you refer a friend you can be confident that you are referring them to the finest security monitoring company, with the world's most advanced smart home security and user friendly products, all installed by local Technicians who live in your community. Your friends will thank you for referring them, we will thank you and show our appreciation with a $200 Referral Reward. Refer a friend today and give them the peace of mind from being protected by ADT.
Call 1-800-310-9490 to refer a friend or family member today!