With these specials, who could resist the security system you've had your eye on? After looking at the competition, you've probably already realized that ADT is the way to go and a special discount offer will assure you get the most bang for your buck. For some, the cutting edge technology of ADT Pulse has you hooked and although pricing is already great, the ADT Pulse cost with a discount makes it a flat out amazing value.

Then there's some that respect ADT Security as one of the country's most remarkable and deep-rooted business stories. From humble beginnings delivering telegraphs by foot to now keeping a watchful eye on a business thousands of miles away, their business plan started with a husband's love. A woman wakes to an intruder in their bedroom so the ever protecting husband, who happens to runs the local telegraph business, responds by creating the first home security system. Now that's irresistible! Over a century later, ADT still leads the way in security and over 6 million families and businesses rely on ADT's protection every day. As romantic of an American success story as that is, your savvy side still demands the absolute most for your hard earned cash and we've got you covered!
All ADT Specials and ADT Coupons are Matched and Accepted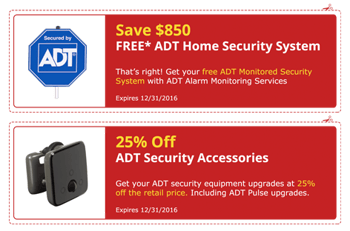 If you've already done your research and just want to find the lowest price on the package you selected, call us at 1-800-310-9490. We will price match any comparable equipment package and installation. Once you've called, you can still opt for your no-cost in home security review with an industry professional. Why you ask? Because you want to make sure you have the best system for your family, not just the cheapest. A security professional that is familiar with your community can help assure that the peace of mind you are looking for is not only a reality, but within your budget. Our Security Consultant will match any other ADT pricing and help you custom design a security system based on your needs, all without the "hard-sell."

Here's what Crystalyn had to say about her security review and installation:

"I called California Security Pro based on their reviews on Yelp because I wanted to make sure my home was protected living in Pittsburg. Joseph Abeyta came out to my house and was on time and professional. He explained to me all of my options without the unnecessary 'Sales pitch' or trying to sell me stuff I don't need. Hector was on time and finished my install within two hours. After it was all done, Joseph came back and helped me set up my app so I could access my system from my phone. I love it! I would recommend CSP to anyone who needs an alarm system. These guys are top notch!" Crystalyn H. El Paso, NM (just moved to Piitsburg)

Check us out for yourself on review sites like Yelp and Angie's List where clients repeatedly express that we keep your safety and peace of mind as the most important factor in designing your system. Our price match policy assures that you can get the same top notch service as Crystalyn, at a price you can't resist.
ADT Special Offers Just For You and an ADT Coupon too!

If you are just starting to look at pricing and discounts, let us save you time, here's our bestADT Special Offers:

Call now to get a quote on a system for your home or business. 1-800-310-9490
.
ADT Special Offers Allow You to Afford the Very Best

Alarm monitoring with ADT's monitoring center network is the standard in alarm monitoring. So you get the customer service of a local family run business backed by over 140 years of security experience. Now that you know you can get the best price, you probably just want to know what our customers have to say about the customer service.


Well here's what Adrian in San Jose had to say:


"BEST in the industry." - A few weeks ago my parents approached me because they were concerned with the overall safety in their community lately. They asked if I had any good recommendations for a good home alarm service organization. For me, it was a no brainier. I told them to contact the BEST in the industry. I referred them to Leo Sabado at ADT! Leo did an amazing job addressing their concerns and needs. He never tried up selling them on additional products and services that they didn't need, but catered a system for them that met their needs and was financially sound. Thanks Leo! Continue to keep up the good work!
Adrian D of San Jose, CA


The great thing for you is that
you can go with the best without paying more
. Whether y

ou are re-activating a system that came with th

e house or looking to install a completely new system, call us today

at 1-800-310-9490

to schedule a FREE home security review or get a price quote.
RELATED VIDEO:
A naked man entered the France family's Wildwood, Florida home and threatened to kill everyone. They activated their ADT alarm causing the suspect to flee. It also sent a signal to ADT's monitoring center in Rochester, New York and the Sheriff's Department was dispatched. Deputies made the arrest and soon discovered that the perpetrator was suspected of murdering his grandmother. The France family believes without ADT and the quick response from law enforcement, they also could have been hurt.