ADT Pulse Cameras are great. They are unique, a must have, completely fabulous and something no one shouldn't live without... just like you. Here are 8 things you might not realize you have in common with ADT Pulse Camera Systems.
Why Are so Many Customers Getting Cameras with Their ADT Security System?
ADT Pulse Cameras are Smart
ADT Pulse Cameras are an intelligent investment that only a smart consumer would make. A worthy addition to any smart home or a great entry into the home automation arena. Smart homes use technology to make life more convenient and simpler. ADT Pulse Cameras give you access to live video surveillance of your home from anywhere and at any time... that's convenient! With a simple to use on-line portal and mobile apps, you can know what's going on when you aren't able to be there. Wouldn't that make your life easier?
Your Pulse cameras can be programmed to detect motion activity and you can also set up e-mail and text alerts so that your cameras contact you directly if something does happen. Say motion is detected by your back door camera when no one should be there. You would want to know now. Your Pulse system will alert you via text to open the app and check it out. Or you can receive an email with a 30 second clip of the event. Automated systems are able to monitor the interior and exterior of your home and can notify you or emergency personnel of any unusual activity when necessary.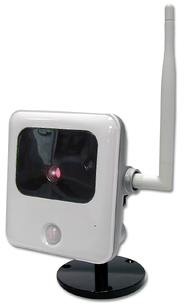 ADT Pulse Cameras are Stylish & Modern
Remember when pagers were just for doctors and cell phones were the size of a brick? Back then, home surveillance systems were about the size of a mail box and a lot of us had hair that was equally large. Luckily we have all evolved. Today smart phones have replaced pagers and fit in your pocket so you have a portable monitor to your camera system. Advancements in camera technology have helped to reduce the size and cost of cameras, making home security surveillance cameras affordable and stylish.
ADT Pulse Cameras Have an Eye for Detail (and a Pretty Good Memory too)
With built in motion detection, your ADT Pulse Cameras won't miss a thing. Clients have used their ADT Pulse front door cameras to catch a thief stealing their packages and an ADT Pulse Camera to catch luxury car dealership thieves. The car dealer actually recovered the cars.
When your recordings are triggered by motion, you get a video clip of an actual event. Once you set up your alerts, notification is immediate. Not when you get home from work or vacation and the thief has stolen and sold your goods. Video clips are stored securely in your on-line web portal, not on a tape in your home that could be stolen too. You'll have peace-of-mind knowing the system automatically stores clips for 30 days. Any clips you want for longer can be downloaded and kept forever.
ADT Pulse Cameras Love Technology
Who doesn't love technology? When I can lie in my bed and turn up the thermostat with a smart phone, I am diggin' technology. These days you almost can't afford to let technology pass you by. Working together ADT Pulse technologies make your life easier.
Meet the counterparts of your ADT Pulse Camera's:
Just like you, your ADT Pulse Cameras LOVE other technology and it all works together seamlessly. If there is an alarm incident, they capture video of the event. If a door is unlocked when no one should be there, your cameras tell you who it is, and if they are supposed to be there. Or simply verify that it's your dog walker walking into your back yard. It's all backed by the unparalleled
alarm monitoring of the ADT alarm monitoring center network
, the pinnacle of monitoring technology.
ADT Pulse Cameras are Careful
We live in a day and age where you need to be careful. Careful with your home, your belongings, your loved ones, and careful with the information that flows through your technology. You can feel secure that your video information is behind locked doors as well. To help maintain your privacy, ADT uses data encryption and security equipment similar to what is used for on-line banking and credit card transactions. You get home security and cyberspace security with ADT Pulse cameras.
ADT Pulse Cameras are Interactive and Hate to Miss Out!
Don't you hate to miss out? We all want to see and hear it all and interact with friends. There is no other explanation for the success of Facebook, Twitter and the popularity of social media all together. Your camera system should be social as well. Using your smart phone and modern technology you can interact with you ADT Pulse Cameras and your entire ADT Pulse system. With your ADT Pulse Personalized Web portal, you are the one in control of how your system runs and even when it should contact you. (Good things we already established you as a smart cookie!) Standard system functionality comes completely set-up, including text and e-mail alerts of alarm activity. You can further customize features and tell your system when you want it to alert you of other events, when you want it to record a video clip and more.
See our blogs on Setting up Modes, Setting up Text and E-mail Alerts etc. for a how-to with screen shots and videos if you need a hand. Use your ADT Pulse Apps to interact remotely from anywhere there is an internet connection. With the
ADT Pulse Voice App
, you control your system by simply speaking a voice prompt. It will even speak back to confirm. How's that for an interactive system? Cameras let you finally be in more than one place at a time. Well... closer to it than ever before. With ADT Pulse Cameras, you don't have to miss a thing.
ADT Pulse Cameras Love Great Company
Who doesn't love tantalizing conversation with a good friend? It brings out the best in us. Well your ADT Pulse Camera certainly shines amongst its peers.Every additional camera you add brings your system more to life and creates more opportunity to see what's important to you. Wouldn't it be great to peek in on the baby while you catch up on house work or see the older kids arrive home safe and sound. For some of you, your "baby" is sitting in the drive way and you need to make sure she is okay every once in a while.
Whatever it is that makes you blood pulse, you can keep an eye on it with additional cameras. Add up to 10 ADT Pulse cameras to a system. If budgeting is an issue, you can add additional cameras yourself as budget permits. Indoor cameras can also be "book case" cameras that you move by simply unplugging and plugging in in a new area. Speaking of budget...
How Much Do ADT Pulse Cameras Cost to Install?
ADT Pulse Cameras are Very Budget Friendly
Not too long ago, a camera system required a DVR recording device and often elaborate wiring as well. A four cameras system with quality comparable to an ADT Pulse system would easily set you back $3,500 and up... sometimes WAY UP. That would be without additional smart home features, and with a DVR that recorded in home, not to the internet. While DVR systems are available, most homeowners can meet all their needs with an affordable pulse system.
A basic one camera ADT Pulse system which includes basic home security and some home automation features, can be installed for $299 and no equipment cost. You can add cameras at an investment between $159-$259 per professionally installed camera (maximum of 10 cameras total). All ADT Pulse systems come standard with cellular communication to the central station. Most people want a bit more out of a system and can get a fairly comprehensive system for around $700 - $900, for an average size home. Elaborate systems with full automation, multiple cameras and all inclusive home security can be a few thousand dollars in up front equipment costs but doesn't change the monthly monitoring. An experienced security professional will help you design a custom security system to fit your needs and your budget, as a courtesy service.
As a stylish, technology loving person who hates to miss out, I am sure you will appreciate a camera system that is almost as smart as you. To learn more or set up your No Cost In-Home Security Review call 1-800-310-9490.