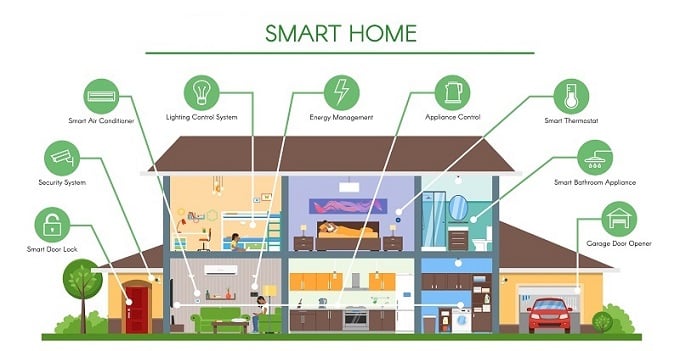 When looking at today's modern smart home and security systems many customers are trying to decide how to plan for a solution that meets their needs and budget. There are so many options today but it's almost overwhelming to many homeowners. Options are nice of course but when there so many, how do you decide what's best and how to plan for a full integration of a connected home. You can spend as little as the few hundred dollars for a security system or spend thousands for a home that's completely connected.
Here are just a few of the smart home devices available on today's market:
Monitored Security System
Security Cameras and Video Surveillance
Smart Door Locks
Thermostat Control
Lighting Control System
Intercoms
Video Doorbells
Home Entertainment
Distributed Audio
Smart TVs
Energy Management
Garage Door Opener
Appliance Control
HVAC Units with Climate Control
Window Blinds Control
Bed Mattress Control
Smart Home Management Hubs
Voice Command
There are also so many Apps for your mobile phones and tablets to control all these products remotely. There's an App for that..... And we may have just begun with the possibilities of the future! Since there are so many products... there are a lot of options for companies getting into the smart home control business.

Who is offering the best solution... most often it is a combination of several companies that will get you the best overall solution of smart home management. Are you going to install some of these devices yourself or would you like help from a professional? Let's take a look at some of your options...
Here are some of the providers of connected home devices and security monitoring:

As you can see there are so many different providers and an extreme amount of different products that are available for you to create a connected home. So what is your best option?
To answer that question it really depends upon what is most important to yourself. If having reliable monitored security with professional installation is is on the top of your priorities, then ADT is one of your best options.


Call us to find out more about your options for smart home technologies and security at 1-800-310-9490
Seven Different Levels of Smart Home Security that ADT Provides.
LEVEL ONE: Monitored Home Security Alarm System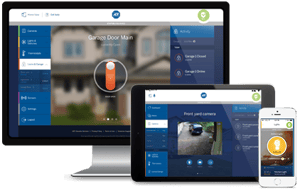 Your first level of home security would be to get an ADT monitored security system that protects all the entry doors, has the interior motion sensor for backup protection and a keypad with emergency buttons for police, fire and medical emergencies.

ADT Pulse Mobile App: Get your monitored security system with remote interactive services of the ADT Pulse App. With this mobile app you will be able to remotely see the status of your alarm system, remotely ARM/DISARM your system and get text and email notifications of emergency alarm events


LEVEL TWO: Additional Security Devices

The next level of home security is to protect the following:
Al the accessible window openings

All downstairs
Upstairs windows with roof access
All door/window opening on balcony
Windows with access from sheds or arbors

Glass break sensors in areas that have glass French doors, glass sliding doors, and large floor to ceiling windows
Additional keypads next to the garage entry, front entry and master bedroom
Most homes could definitely use more than one motion detector

At least one on each level of your home
Storage sheds
Detached garages and shops
Have your ADT security consultant help you plan for your needs and design a security system with devices installed in the right areas for maximum security coverage.
LEVEL THREE: Life Safety Monitoring
Protect your home and family from emergencies other than burglary with these smart home emergency services.

When someone talks about monitoring life safety products, typically that includes
Monitored smoke detectors and heat detectors for fire monitoring
Carbon monoxide poisoning detectors
Flood sensors to detect unwanted water damage in areas like indoor laundry room and basements
Medical emergencies.

Every home should have at least one of monitored smoke detector which would be placed in the hallway next to the bedrooms. If you have a multiple story house you should have at least one monitored smoke detector on each level. Heat detectors should be added to the kitchen, garage and laundry room. Some homeowners would like to replace the smoke detectors in all bedrooms with a monitored photoelectric smoke and heat detector.
Benefits of fire monitoring
ADT Central Station will call the fire department for you in the case of a fire emergency
Photoelectric smoke detectors detect smoldering smoke before a fire starts and often 20 plus minutes before an ionic smoke detector will
You may receive additional discounts on homeowners insurance for having monitored fire protection.

Monitoring for carbon monoxide poisoning is also important as it will notify the ADT Central Station in case your home is being filled with this poisonous gas. The monitoring center operator will call you to notify you of the detected carbon monoxide poisoning and dispatch your local fire department. This will ensure that you do not enter into your home when it is not safe.

Flood sensors are designed to notify you of water in unwanted areas. Most often these are installed in the laundry room or in the basement that may have issues. This can protect you from the massive damage water can cause.
Medical emergencies happen more than any other type of monitored emergency. Each keypad that you install will have a medical emergency button to notify the ADT Central Station of your need for help. The ADT Security Operator will call the local ambulance or fire department to send help. You can also get medical panic buttons for those who have special medical needs. This will provide peace of mind for everyone in the family.
LEVEL FOUR: ADT Security Cameras and Video Surveillance Systems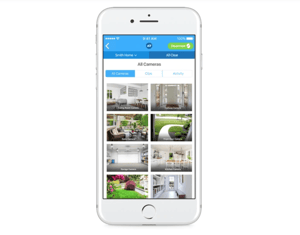 About 50% of all of our customers get at least one camera installed. Many customers are choosing a security package that has at least one indoor camera and outdoor cameras at the front door location, backyard and side yard. Another popular video device is the video doorbell with an mobile app for you to do see video and hear audio of someone that is at your front door. Most camera systems will send you a text or email notification of motion in front of the cameras, send video clips and record video in the cloud or on a digital video recorder.

If it is affordable for you, it may be worth it to get a CCTV camera system that is not WiFi based. Wi-Fi cameras and doorbells are very convenient but at times may have problems with going off-line. They will also not work at all if your Internet does down. If you want 24/7 reliability, often a CCTV video surveillance system is your best option. These systems also come with a wide range of options for camera selection which will enable you to get a superior quality picture and often a longer warranty on the equipment. Both options have the availability of a mobile app which will give you remote viewing of live events and recordings. With mobile connectivity of your security cameras you can also receive text and email notifications of any motion in front of your cameras. Stop burglaries before they happen!
HOME AUTOMATION

LEVEL FIVE: Automated Door Locks Including Garage Door Control

Most burglaries happen through the door openings and over 50% of those happen at the front entry door. A security upgrade is to get automated door locks at your front entry and potentially side or back doors. Automated door locks can be programmed to automatically lock after a certain time from when the door is open. The door locks can also be scheduled to lock at certain times of the day and can be triggered to lock from events like arming your security system.
With connectivity to your mobile devices, you can be notified when your door locks are locked or unlocked. You'll have the ability to remotely lock or unlock your doors as well.
You may also want to control your largest door of the house, the garage door. With your ADT connected home, this gives you the ability to be notified if you accidentally left your garage door open or want to remotely open or close your garage door from your mobile device app. About 10% of burglaries happen through the garage door so it is important to protect this opening.
LEVEL SIX: Home Security Lighting Control

Proper lighting can definitely be a deterrent for burglars. Having lights that are programmed on a schedule to go on and off at random times each day will be helpful to provide protection for your home while you were away on business travel or holiday. You can also use lighting control to make sure that you never enter into your home when it's completely dark. Lighting can be triggered to go on in emergency situations like fire or when your burglar alarm goes off. Just installing a motion lights on the exterior of your home can help you provide a safer environment. Simple lighting control can be provided with the following:
Outlet plugs for lamps
Smart lightbulbs
You can replace light switches with smart light switches for whole house lighting control.
LEVEL SEVEN: Climate Control With Smart Thermostats

Thermostat control is most often associated with providing a comfortable temperature in your home and creating schedules for heating and cooling that save energy. Something thing that a connected home thermostat can provide is to turn off the fan when the monitored smoke detector detects a fire. This will stop the flames from being fueled by oxygen from the heater or AC unit. Some smart thermostats can be programed to change the temperature setting when the alarm is armed to away mode as you are leaving or change back to your desired temperature setting when you arrive back home and disarm your system system.


So What is the Most Convenient Way to Control Your ADT Smart Home?
Most homeowners would preferred to control their entire connected home with one app. To control all the devices above you could have multiple apps but it is far more convenient to use a single App app like ADT Pulse. Here are some of the ways you can control your ADT Pulse security system, cameras and home automation devices:
ADT Pulse App for iOS devices and Google play
Voice command with Alexa from Amazon and from Google Home devices
ADT Pulse web portal from your computer
Touchscreen command center for ADT Pulse


How Secure is a Connected Smart Home?

It is important to note that many connected home devices are relying on the Internet to function. It is vital to home security that your alarm system function without Internet or power in case there are outages. With ADT's monitored security system your basic burglary and life safety devices will work without the Internet. Once Internet connectivity is lost you will not be able to use your mobile app to control most smart home devices. So be sure to plan accordingly.

Many cameras and video doorbells require Wi-Fi which relies on your Internet. So if you need 24/7 reliability regardless of your Internet connection, it may be to your advantage to get a CCTV video surveillance system. This system will record all activity on the local digital recorder which will save all your videos for future viewing. Once your Internet goes down you will not be able to remotely view live video or connect to your camera system remotely from mobile devices.
Not all smart home devices have the same level of security. It is important to have the proper protection for your home's Internet and WiFi with strong passwords. An extra level of protection is having a hub like the ADT Standard Gateway for Pulse that controls all the smart home devices connect to your ADT Pulse system.


Technology certainly has changed the way we can stay connected to our home. By being able to remotely monitor the security of our homes we now have the ability to have even greater peace of mind.

What about personal security when you're away from home…? Check out the ADT Go app!
For more information on the ADT smart home automation system
call 1-800-310-9490