ADT Pulse... Home Security on the GO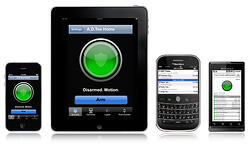 ADT Pulse is ADT's newest monitoring service giving you control and notifications of alarm events remotely from a computer or mobile device via the Internet.
ADT Pulse allows you to remotely ARM or DISARM your security system from anywhere with your iPhone, iPad, Blackberry or Android smartphone. You can also set up your ADT Pulse system to send you notifications of alarm events or security equipment device events. If you are on the go, ADT Pulse is the perfect solution to your home security needs.
To learn more about ADT Pulse check out this blog about the home security benefits of ADT Pulse.
ADT Pulse Beyond Home Security
ADT Pulse is being rolled out in multiple stages. ADT Pulse has 3 levels being introduced over time. Level 1 is the remote home security system, Level 2 is camera integration and ADT Pulse Level 3 is the home automation portion including thermostat and lighting control.
ADT Pulse Level 1 is gaining popularity as more and more customers would like their mobile devices to control their home security system remotely and find email notifications of alarm events very helpful in today's busy lifestyle. ADT Pulse is also a Cellular Alarm System so you do not need home phone service to have your family protected. Of the 3 levels, ADT Pulse Level 1 is currently by far what most customers are deciding is right for their families.
ADT Pulse Level 2 with camera integration is fantastic and customers have enjoyed the added security of being able to view their home remotely from their mobile devices or computer at work. Snap shots of who armed or disarmed your security system can be helpful and seeing what happened during an alarm event is one of the best benefits of the ADT Pulse Level 2 upgrade. ADT Pulse Level 2 is an affordable option for video surveillance at home.
ADT Pulse Level 3 is the home automation portion of ADT Pulse. This home technology management platform is quickly growing in popularity throughout the United States. With ADT Pulse dead bolt door locks, lighting control and thermostat control, ADT now adds an extra level of protection, comfort and energy management to to it's home automation platform. In the near future, you will be able to use ADT Pulse to open and close your garage door and use voice commands to manage your ADT Pulse system. The future of home technology management is here and leading the way is ADT.
Have one of our Security Consultants come to your home and give you a live demonstration of ADT Pulse. Decide which level of ADT Pulse is right for you and your family.
For more information or to order your ADT Pulse Security System for California Homeowners call 1-800-310-9490.