Whether you're activating an existing system or looking for a brand new system, researching a home security company can be a lot of work. There are lots of options and chances are you aren't a security professional. Starting your search with your local ADT Dealer will save valuable time and money. Here are 5 reasons why.
1. ADT Dealers: Products You Want From a Name You Can Trust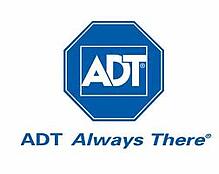 When Americans think security, they think ADT. With 90% of U.S government agencies and most Fortune 500 companies protected by ADT, it's no wonder over 6 million American families also choose ADT. ADT is committed to continued leadership in the business of security, offering innovative products and services that will not only make your life more secure, but easier.

More homeowners trust their security to ADT than any other home security company in the country. Having been around for well over a century, you never have to worry about whether or not they are going to be around tomorrow. Their 6 monitoring centers located across the country are a guarantee that even if a hurricane and an earthquake take out 2 of them, there are 4 others keeping your home and family safe.

California Security Pro is the #1 ADT Authorized Dealer in California. Unlike some smaller outfits, we offer top of the line equipment and top of the line customer service. But don't just take our word for it, check out our reviews on Yelp, Trust Pilot, Better Business Bureau and Angie's List. We're not just saying we're the best, our customers say that's we're the best, before and after install.
2. ADT Dealers and ADT Pulse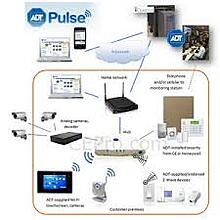 Who doesn't love features? California Security Pro a leader in ADT Pulse installations. ADT Pulse is the most feature rich option in home security. Even if you start off with a basic home security package, you have the platform for cameras and full home automation if you ever decide you want more. ADT Pulse will secure your home from would-be intruders and give you access to control you system from anywhere you have internet access. Here are a few things an ADT Pulse System can do:
Arm and disarm your system remotely, from any web enabled device.
Schedule lights to automatically turn on and off at specific times of the day or night or on a random schedule.
View an on-line overview of your entire system and make changes remotely.
Control your appliances and lighting for energy efficiency
Change your access code to let people enter your house when you're not home.
Lock and unlock your doors remotely.
See a history log of events that happened.
Receive text and/or email alerts of what's happening at home, you can even attach a picture or video clip.
Access live, real-time video from your mobile device or the web. Take snapshots while viewing.
Combine multiple actions that happen with one command.
All the features you love and demand with controlled with at the touch of a button.
3. ADT Pulse's User Friendly On-Line Web Portal
Your Personalized Web Portal is another great feature. It was made so anyone can use it with several click-and-play options. Our technicians take the extra time to get you set up o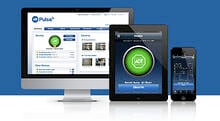 n-line and logged in. Once logged in, your home page shows the status of your entire system. Your Home View is a diagram of your home with icons to show each devices location and status. It would make no sense to have all these cool features and struggle to use them, right? ADT has made everything simple and straight forward so you are encouraged to make complete use of your system.

Other tabs allow you to set-up functions for your devices. Set the lights to come on automatically so you come home to a well-lit house. Use your phone to unlock doors as you pull into the driveway with groceries. Receive an email with a 30 second video clip of anyone who comes on your front porch. (Read about a California Security Pro client that helped catch a burglar with a front porch video camera.) All these and more can be set up to happen automatically with your ADT Pulse system with a few simple clicks in your web portal.
4. Control Your ADT Pulse System with Multiple Devices

ADT Pulse puts control right in the palm of your hand… literally. If you are not by a PC to use the Web Portal, you can still access and control your system. The ADT Pulse App lets you control your system from anywhere and at any time, even if you are vacationing in Aruba! Log in and check the status of your home while you are on the go. View live video of your home from your web-enabled Android or Apple device. Arm or disarm your system or unlock the doors when your parents drop in un-expectedly. You can even make sure little Johnny didn't forget to turn off the lights and lower the thermostat before heading off to school and you can fix it if he did.

Download the ADT Pulse Voice App and enjoy hands free control of your ADT Pulse system. The ADT Pulse Voice App uses cutting edge technology to maintain security with a 3 stage account confirmation. Once you log in with your security phrase, get a verbal status update of your system and use voice commands to make changes. Any changes made will have verbal confirmation.

You can also upgrade to an interactive touch screen keypad that's installed in your home. It's a convenient way to view camera feed without logging into your computer. It does all your standard touch pad features like arming your system and sending emergency alarm signals and will also controls your home automation. You can control climate and lighting, read a news feed, feature your photos, get a traffic report and lots more. Have one installed for your kitchen and master bedroom.
5. ADT Dealers Offer Special Pricing
How do you research a product without prices? It's a silly thought, but many security companies refuse to quote prices over the phone or on their websites. You will find our prices right on our website and in plain English. We understand that you want to get a high level of protection at the most competitive price possible. Our prices are very competitive and we will match any other on-line ADT special offers, ADT coupons or written estimates for comparable security systems and installation. Start with our Free Home security System* and build a more custom package if you like.
California Security Pro's unique advantage is that you get the service of a local security company, backed by the most reliable Security Monitoring Center Network of ADT. We will have a Security Consultant come to your home for a Free Home Security Review to help you plan for the level of protection that is right for your family. One of our technicians will then install your security system and give you a demonstration of how to use your new ADT Monitored Security System.
If you are ready to have a FREE Security Review, give us a call at 800-310-9490 or click below and fill out our form for us to call you.