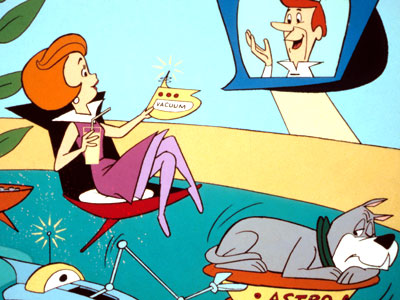 In September of 1962, the first "Smart Home" popped onto your television screen. A futuristic glimpse of life in the year 2062.
Who owned this home of the future? George and Jane Jetson. A space age spin-off of the Flintstones, the Jetson's were the first family to have home automation. The TV lowered from the ceiling and projected your phone calls. They had fully automated appliances with food cooked and served at the press of a button. The vacuum even ran by remote control. Lights and temperature were controlled by their voice. George said "News", and the newspaper scrolled on the "televiewer". Half a century later the Smart Home of our the space age family is quickly becoming a reality.


With the mass adoption of smart phones and tablets, people are more and more comfortable with automation and technology. Today there's an app for... well everything. Smart phones do things never before expected of a phone, and that expectation is spilling over into every area of life, including your home. In 2012, 3.5 million homes in the United States were considered Smart Homes. Just one year later the number of Smart Homes was 5.5 million and 12.4 million homes will be Smart Homes by 2017 as projected by Statista. By 2017, four out of five new homes will be built with Smart Home technologies and one in three existing homes will be Smart Homes.
Related Article: The Top Smart Home Devices: How To Make Your Home Smarter Than You by Top Reveal
So What Exactly is a "Smart Home"?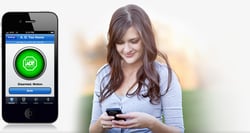 Simply put, the Smart Home is a home that makes life more efficient. Not just easier, but more energy efficient and more time efficient. Also called Home Automation, the Smart Home Technologies are applied to systems in your home like small appliances, lighting and your thermostat. This gives them the ability to communicate with an automating device or each other. They are now "smart". In the same way you use a universal remote for multiple TV components, you now control multiple systems in your home with one device!
ADT Pulse Smart Homes also allow "modes" which trigger multiple tasks at once. Your Smart Home can also conveniently be controlled remotely. Picture yourself on a tropical island, sipping a Mai Tai, while vacation mode runs your home. Oops! You check your smart texts and realize that your knuckle-head son needs to get in and borrow tools. No problem, you can disarm from your iPhone and unlock the door for him. You can even blast the heater so he doesn't hang out and raid the fridge.
Don't forget, you can also add in ADT Pulse surveillance cameras ad keep an eye on his every move.
Why an ADT Home Security Platform for your Smart home?
Click below to see the ADT Pulse Remote Home Security with Home Automaiton in action!

You have many companies to choose from so why is the Home Security platform the best option? Because ADT Pulse Home Security offers one of the most cost effective and logical platforms for your Smart Home. Click the picture to view the
"everyone loves the simplicity and convenience of a smart home, but consumers overwhelmingly agree that security tops the list as the most important feature of the smart home. 90% of respondents said personal and family security is one of the most important reasons for using a smart home system – with 67% ranking it as the number one reason overall. In fact, not including at least some type of security capability in a home automation system is considered unacceptable by all" - Icontrol's 2014 State of Smart Home Report.
100% of people surveyed deem it unacceptable for a Smart Home to not include home security! With home security being the most important piece of the Smart Home experience, it is the obvious platform for your home. Utilizing a home security platform, a small system that would once cost upwards of $3500 can start as low as $500... or lower. ADT Pulse takes the #1 security system in America and combines cutting edge Smart Home technology. The result, a powerful Smart Home experience with endless possibilities.
Why ADT Pulse for Your Smart Home?
Here's a few good reasons:


And finally, when you watched the Jetsons, you knew some day that had to be your home. Today is that day and we're here to help you.
Why California Security Pro?
California Security Pro is an industry leader in the integration of ADT Pulse monitored security systems. Over 75% of our new customers have an ADT Pulse monitored security system installed. You won't have to deal with some new kid tinkering around your home. Schedule to have an ADT Pulse Security Consultant come to your home for a Free Home Security Review to help you plan for the level of protection that is right for your family. Our Security Consultant will give you a live ADT Pulse demonstration because seeing is believing!
California Security Pro is proud to be in the top 10 ADT Authorized Dealers nationwide! Our unique advantage is that you get the service of a local security company, backed by the most reliable Security Monitoring Center Network of ADT. California Security Pro is #1 in California because we are #1 in service! Check out our BBB A+ rating, ADT reviews and Prime Buyer's Top 10 Home Alarm Companies and I believe you'll agree that we offer top notch customer service. People love us on Yelp too!!!
If you have not had to a chance to experience ADT Pulse for yourself, call now for a more information at 1-800-310-9490 or Click below to schedule a FREE home security review.
Editor's note: This blog was originally published July 29, 2014 and updated to include information about the ADT Pulse Door Locks, Cameras and Alexa.
California Security Pro understands you want to get the level of protection you desire at the most competitive price possible. Our prices are very competitive and we will match any other online ADT special offers, ADT coupons or written estimates for comparable security systems and installation. - See more at: http://www.californiasecuritypro.com/#sthash.3DPwaJX3.dpuf
We understand we are in the business of saving lives and giving you peace of mind knowing you are protecting what matters most, your family! - See more at: http://www.californiasecuritypro.com/#sthash.3DPwaJX3.dpuf
We understand we are in the business of saving lives and giving you peace of mind knowing you are protecting what matters most, your family! - See more at: http://www.californiasecuritypro.com/#sthash.3DPwaJX3.dpuf