Here at California security Pro, we know we have the right security system for your family. But don't just take our word for it! With August seeing the highest numbers of burglaries, it's a time people think of home security. Did you know that a burglary happens every 14.6 seconds with an average loss of $1,725. The security companies sure do! So how do you figure out who just wants your business and who wants to help you protect your loved ones. At California Security Pro we've worked hard to be the very best and earn your confidence!
Follow these steps, to make your own comparisons and see why so many families choose California Security Pro to protecting your loved ones and giving them peace of mind.

1. Familiarize Yourself with the Types of Home Security systems available...
Understanding your options will make you confident you've made the right choice! Here are the basic types of systems available: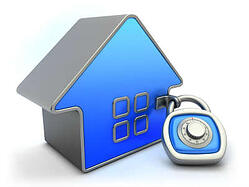 Monitored or Unmonitored:
Unmonitored systems work with your internet and are available at most home improvement stores as DYI projects. Some stores work with sub-contracted companies you can hire to install. Your deterrent is a loud siren that is produced when the alarm is tripped. You can sometimes add additional features such as l lighting and thermostats controls.
Monitored alarms are professionally installed systems that are connected to a central monitoring center. They also produce loud sirens with an alarm event and call the police or fire department. Most systems can text and/or email you of alarm events and systems can be controlled remotely. Addition features can include real time video monitoring, automated dead bolts, lighting and more.
Wireless, Hardwired or hybrid:
Hardwired systems are for homes that have existing wires in the wall that go to each component. The age of wires can be a concern so this is a system where you need a company that offers an on-site evaluation. Preferably at no cost to you.
With a Wireless system, components communicate with each other by wireless technology. Each component "checks-in" hourly with the control panel to verify it is functional and battery life is good. Homes with no existing wiring should use a wireless system.
Hybrid systems combine the best of both worlds for your pre-wired home. The hybrid system communicates with existing wired components, also allowing for additional components to be added where no wire exist. This can compensate for a possible non-functional wire and allows for add-ons to your system like thermostats, smoke detectors, cameras and more.
Using a company that offers a FREE on-site evaluation gives you the opportunity to ask questions about your home and your specific needs. A security professional should listen to your needs and assist you in creating a personalized plan for your home.
2. Familiarize Yourself with Home SecurityEquipment and Features...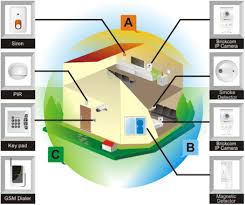 Once familiar with these security system features, you can create a system that works for your needs.
Keypads-These are the panels you will interact with daily to control your system. A system has at least one, extra keypads can add convenience.
Smoke and heat detectors-Monitored Smoke and Heat detectors will immediately alert the Fire Department of a fire.
Carbon monoxide detectors-Alerts you of dangerous CO levels before it is too late.
Motion sensors-Detect movement in an area creating no trespass zones.
Window and door sensors-They "stand guard," ready to react, alerting you when a door or window opens. A great feature for families with small children.
Glass break sensors-They alert if glass has been broken with-in a certain area.
Panic Buttons-Can be pressed to send a distress signal to the monitoring company.
Flood Monitoring in your basement, bathroom and garage-Detect and alert of abnormal water levels to prevent flooding.
Video Monitoring with ADT Pulse -Cameras added to a system will provide live feed in covered areas of your home or perimeter and optional recorded data. (See video demo)
Automated Door Locks from ADT Pulse-Dead bolt locks that work with the alarm systems. (See video demo)
Thermostat and Lighting Control through your ADT Pulse System-The ability to automate your thermostat and lighting. A good way to save money. (See video demo)
Remote Access with ADT Pulse-The ability to control your home security from any Smart Device.

(See video demo)
Since you are probably not a home security specialist, having someone to answer questions can be a huge help, making number 3 vital!
3. Refuse to Accept Poor Customer Service from a Home Security Company!
Or ANY company! We all know that it is infuriating to receive bad customer service. According to HelpScout, "78% of consumers have bailed on a transaction or not made an intended purchase because of a poor service experience" Wow! Almost 4 out of every 5 people who have made a decision to purchase something, did NOT, due to poor customer service. At California Security Pro, we take service serious! We are your friendly community company that is serious about taking care of your needs. But should you believe that because we say so? "80% of companies say they deliver "superior" customer service, 8% of people think these same companies deliver "superior" customer service." (read more at HelpScout.com) So apparently you can't just believe what companies say.
So you ask, "what do I do?" Glad you asked! Of course you want to know how other people just like you rate a companies expertise and service. Take a look at 3rd party review sites. Websites like AngiesList, TrustPilot, Yelp and Better Business Bureau offer unbiased information about a companies history with clients.
Armed with a good idea of what your needs are, you can start to look at pricing, obviously an important issue to us all.
4. Look at the Home Security Price Tag...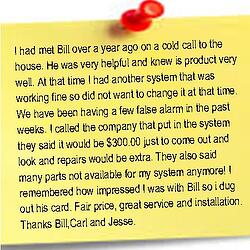 Aren't we all determined to get the most bang for our buck! Prices for home security can vary dramatically. However, armed with your knowledge of what's available and what features are most important to you will keep you comparing apples to apples. A company should be able to give you a quote by phone or on website. Not surprising, many of California Security Pro's reviews mention just how great our pricing is. If that's not enough, California Security Pro will match any other on-line ADT special offers, ADT coupons or written estimates for comparable security systems and installation.
With California Security Pro, you get service of a local security backed by the most reliable Security Monitoring Center Network of ADT. ADT is used by the federal government in national airports, major military installations and virtually every civilian agency. It is no surprise that over 6 million Americans rely on ADT's network.
And finally, most people select a home security company to have for years. California Security Pro wants to be that partner. We have lots of happy customers and the some pretty amazing reviews to prove it! We have knowledgeable security professionals that provide good old fashioned customer service. They come to you, discuss your goals and walk your home with you providing a FREE Home security consultation. When you're ready for your FREE Home Security Review, give us a call at 1-800-310-9490 or fill out our asy form and we'll call you.
Check out out most popular system: ADT Pulse with optional Home Automation:
For answers to more Frequently Asked Questions, Click Here.