Your ADT Needs Analysis: Helping to Understand Your Unique Security System Needs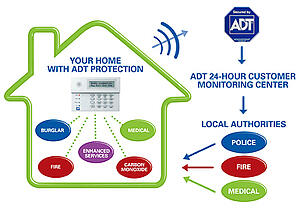 It is important to figure out what kind of home security system and monitoring service is right for you based on your family's lifestyle and your budget. Finding out what type of crimes are happening in the neighborhoods around you and were sex offenders live will also help you decide on security options you need. Also, deciding on whether medical and fire emergency monitoring is something you would like and if home automation and control is for you. Asking the right questions is an important part of helping you design the right ADT monitored home alarm system for your home and family.
If you personally do not want to spend a lot of time researching, schedule a free ADT home security evaluation with one of our professional security consultants to help you custom design your home security system. Call 1-800-310-9490 to schedule your home security evaluation. Otherwise, read on you research soldier:)
Here's some questions to help you begin to design a security solution that meets your needs:
Need for Protection
What is motivating to you to look into ADT monitored home security?
Has anything happened recently to give you cause for concern?
Are you aware of any burglaries, home invasions or sex offenders in the area?
Have you checked crime reports in your city and seen what is occurring over the last 6 months?
Are you more concerned about having security when you are home or away?
Knowing what is happening in your neighborhood will help you design the right security solution. If vehicle theft or breaking into vehicles at night is a problem, then cameras pointing to where your cars are parked would be valuable. If delivered packages are being stolen from front porches, then a front door camera with motion detection may be right for you. If burglars are canvassing your neighborhood during the day and bumping door locks or kicking in front doors then extra safety at the front door will be important. If you are more concerned with protection when you are home then complete perimeter protection of doors and windows, especially ground floor openings will be important and having emergency panic buttons in different parts of the home will be good to have installed. For arming your system while you are away from homing, ADT motion sensors will be needed.
Family Members
Spouse/Significant other?
Kids' names and ages? Any adults home when they get home from school?
Child care?
Other members of household?
Pets? Indoor/Outdoor?
Any special needs or family members with health issues that are of concern?
Designing your security system for your families lifestyle is key to you being satisfied with your ADT monitored home security system. If both parents work and you want to be notified when your teenager arrives home after school then an ADT Pulse Security system with text and email alerts would be right for you. If anyone in the family has medical concerns then making sure your security system has two-way voice monitoring would be great to have. If pets are left in the home when you are away from home then ADT monitored smoke detectors will give you peace of mind knowing pets are safe and ADT Pulse indoor cameras will let you check in to see what your furry friends are up too.
Family Lifestyle
Who watches your home when you are not there?
Daily routine? Weekend routine?
Vacations/Business travel?
When you are gone for the day or traveling, who watches your home? If you have house sitters or pet sitters it would be important to make sure it is easy for them to arm and disarm your security system so they do not cause false alarms and it may be nice for you to get text notifications when they arrive. Being able to remotely see the status of your security system and control your home security devices while your away from home is essential if you travel. Home automation and a vacation mode can help you manage your home security system, door locks, lighting and thermostat control while you are away. Setting schedules for your home automation devices is fantastic when you are traveling for business or pleasure.
Security System Needs
Do you have any experience with security systems?
Anything you liked or disliked about your previous security system?
Is there an existing system or security pre-wire in the home?
Do you have traditional phone service? Provider?
Do you have Internet service? Provider?
If you have experience with security systems in the past make sure your new ADT monitored alarm system has all the features and benefits your previous system had. If there were things you did not like about your last security system, look into some of the new features and technologies that security systems offer today that were not available before. If your home is pre-wired for a security system make sure to look into the benefits of having a hybrid, hard wired security system installed that utilizes the current wiring but gives you options to add all of today's security and home automation technologies. It is also important to understand which security system options need home Internet service, a phone line or if you no longer have home phone service what your cellular alarm system options are.
Other Security and Home Automation Needs
Are you interested in security cameras? Front door... exterior... interior?
Do you have door locks with lock bumping protection?
Are you concerned about:
Monitored fire protection… carbon monoxide poisoning… water damage?
Additional protection needs… guns, jewelry, liquor cabinet, collection, art, etc?
Interested in energy savings? Thermostat and lighting control?
Figuring out what's important to you and what your priorities are based on your budget for security is one of the first steps in designing the right system for you and your family at a price you can afford. ADT customers invest anywhere from a few hundred dollars to a few thousand dollars for their ADT monitored security equipment and get monthly monitoring service ranging from $33.99 a month to $60.99. So understanding your options of all that ADT offers in life safety and home automation monitoring is key to helping you order the perfect security system to meet your needs, enhance your lifestyle and give you peace of mind.
Design Your ADT Monitored Security System to Protect You from the Typical Burglary
The first thing most burglars do is case the neighborhood. Go to your front yard for a burglars eye view of the front of your home. Look at your neighbors homes. Are your neighbors displaying security signs "protected by"? Burglars will typically just skip homes displaying security signs.
Safety Tip: Display your security sign so people can see it when they drive by
Burglars case the neighborhood to figure out what part of the day you and your family are not home.
Safety Tip: Park your cars in the garage so burglars can not easily see when you are coming and going.
Safety Tip: Use auto lights inside and put them on a schedule so it appears you are home at night. ADT lamp modules with lighting control and schedules are perfect for this.
Look at your home from the outside front yard to get an intruder's perspective of your home.
Safety Tip: Trim trees and bushes that block windows or doors. Burglars often hide behind them giving them time to break in without anyone seeing them from the street.
Most burglars enter through the front door. They knock and ring the doorbell multiple times as a last attempt to make sure no one is home. Typically, burglars kick in the front door or use a small crowbar to break in the door. Some thieves are using lock bump keys or find your hide a key.
Safety Tip: When you are home always go to the door and let them know you are not interested. You may want to leave the door closed but make sure they know people are home.
Safety Tip: Install a security camera at the front door so you can see who it is. ADT Pulse cameras give you the ability to see who is at the front door from your mobile devices, smart TVs or a computer with Internet connectivity.
Safety Tip: Reinforce door with deadlock and use long hardened steel screws in strike plate to secure firmly to door frame
Safety Tip: Do not hide your key near the front door, under a mat, above the door frame, under a pot or in a hide a key rock
Safety Tip: Get a door lock with BumpGuard technology and keyless entry
Once a burglar enters your home, they will open another door for a secondary escape route, typically the back door. First place they head is to the master bedroom where many people keep most of their valuables. They take the pillowcase off the pillow to use to fill with stolen goods...
Flip the mattress looking for guns and cash...Open and empty every dresser drawer in the master bedroom, look for envelopes tapped under the drawers or inside the dresser behind the drawers, go through lingerie draws where women often hide jewelry and other valuables...
Go through the closets, throw all the clothes on the floor looking for small safes they can break into or take with them... and empty every shoe box looking for hidden cash or other valuables...
If there is a jewelry case or jewelry armoire they will just dump all the jewelry in the pillow case... From there they.... Go into the master bathroom and look for jewelry, watches or prescription drugs in the medicine cabinet... Next they hit the home office area looking for personal files, banking info, etc for identity theft. Also steal the electronics.... Then hit all the kids bedrooms looking for game boxes and electronics... Head to the kitchen and pull everything out of the freezer (people hide cash in the freeze, "cold hard cash"), look for the cookie jar filled with some cash, look for silver (easy to sell at a local pawn shop) and look for prescription drugs in the cupboards either to use or sell on the street"... on the way out they grab your flat panel TV.
Solution: An essential security system includes getting every exterior door in your home protected with an alarm sensor. Also you need a motion installed in the hallway for a trap zone to catch the burglar on the way to the master bedroom. And of course, put your ADT sign in the front yard to deter burglars from even attempting a break in to begin with. If you have a very low budget for security, an essential system would be a great place to start and you could always add additional protection in the future. Check out the FREE ADT Monitored Security System special offer.
To help you figure out what other security priorities you may need let's look at the steps of a home security evaluation. Call 1-800-310-9490 to schedule a FREE home security review and a custom system design consultation.