Wireless security system is a broad term used to describe the wireless aspects of home security, which can be a few things. A wireless security system can refer to the sensors and devices inside your home not having a wire that runs from each device into the control panel, they are wireless. They rely on wireless signals to communicate with the control panel.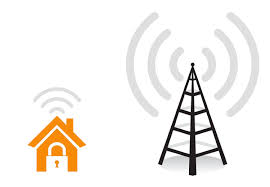 You can also have the benefits of wireless home security or wireless business security systems referring to wireless communication with the alarm monitoring center network. This refers to the way signals leave your home. Whether the devices inside your home are hardwired directly into the panel, or they are wireless, your panel can still use wireless signals to go outside of your home to talk to central monitoring stations. ADT uses ADT Cellguard cellular alarms systems which are 4 times faster than systems that communicate using your land line to send signals outside your home.
The challenge, as always, is taking wireless a step further! How can a provider of alarm systems create more features that benefit you, using wireless technologies? Technology that will keep today's system relevant tomorrow. Let's look at the current uses of wireless technology within your security system and a look at where ADT's protection is headed for tomorrow.
ADT Pulse Security Fits Your Wireless Lifestyle with Remote Monitoring and Control
For most, life has become very mobile. Many kids can't even fathom that conversations used to take place face-to-face or on a telephone that was connected to a wall. Smart wireless phones only become popular and widely available in about 2004. In just 20 years, our lifestyles have become dependent on wireless communication. Many turn to a wireless device for their morning news, checking their schedules, and carrying out important business transactions. Now if it could just brew coffee...
Many wireless security system options exist specifically to accommodate your wireless lifestyle. You can control your ADT Pulse security system with multiple devices from anywhere in the world with Internet connectivity. Whether you are in Jamaica or stuck in a meeting, wireless ADT Pulse systems let you check the status of your system and provide multiple ways to arm or disarm your ADT Pulse system. You can control your lights, small appliances, thermostat and dead bolt locks individually or by setting up modes that will adjust them all to predetermined setting when activated on your wireless device. See an ADT Pulse demo here.
Wireless Security Cameras Meets Your Video Surveillance Needs

Wireless home security cameras are rapidly increasing in popularity. This is an area advancements in wireless technology have increased in quality and home security cameras are becoming very affordable. Many invest in a camera system due to growing concerns about personal safety and material loss. ADT Pulse Cameras give homeowners the peace of mind that comes from being able to see their home and family while out. Here's a few ways wireless residential cameras provide protection:
Cameras at a front door will catch a thief. Have a video clip of every person that steps foot on your porch so you know exactly who is near your house and loved ones.
See your kids arrive home safely from school, you can also get a text and/or email alert if they don't.
See who is at the front door without stopping what you are doing. You can unlock the door and let them in from your wireless device or alert authorities, if need be, while keeping a safe distance.
See your baby resting safely in bed while you are in yours.
Access high-quality proof of any improper activity at your home.
Business Camera Systems. Your business security system is incomplete without cameras. For most, the advantages out weigh the cost. One business client used his ADT Pulse cameras to catch luxury car dealership thieves. While continuous recording with a DVR is available, most businesses prefer recorded clips that are triggered by movement or an event like a door opening. By setting up text and email alerts, ADT Pulse Cameras will instantly inform you of events. Here are some reasons you need video surveillance in your business:
Up 30% of annual loss can be attributed to employee theft, cameras deter material theft.
Non-employee theft can account for another 30% of annual loss.
Deter time theft where employees collect a pay check while handling excessive personal duties or spend company time text-ing, checking social media, and chatting or taking unauthorized breaks.
Deter equipment use theft like using company copiers and other equipment to carry out person duties like print resumes or schoolwork.
Manage you employees when you are not there by being able to see that they are busy working and helping your customers.
In addition to cutting down on theft, video surveillance provides monitoring of employee adherence to company policies while providing proof for prosecution of actual theft. Wireless surveillance cameras offer an affordable alternative to costly hardwired systems.
Wireless Security Systems are Expanding to Meet Your Every You Didn't Know You Had
With all the cool gadgets available today, it would be hard to not feel your inner geek yearning out for more. ADT answers that call by expanding existing technological ideas. Companies, like ADT, are developing products and creating alliances to provide you increasing wireless security and control with-in one system. Check out some of ADT's alliances that provide you a growing number of wireless opportunities for your security system:
ADT and Ford have join forces so you can have hands free control of your ADT Pulse system in 1.5 million Ford SYNC enabled vehicles.
Samsung and ADT bring you the ADT Pulse App on Samsung's line of smart TV's. You can see who's is at the front door and let them in without stopping your program or leaving your sofa.
ADT and Life 360 bring you ADT's Free Canopy App with Chaperone: personal security on the go. An App independent of your home security that give you access to a live ADT agent to accompany you, via smart phone, any time that you are alone and don't want to be. The only personal security app available.
Southern California Edison and ADT partner for interactive home energy management. ADT Pulse's energy management features bring your real time access and control of your energy costs and SCE offers rebates for having an ADT Pulse system connected to your smart meter.
ADT is doing beta testing for ADT Pulse channel on IFTTT. IFTTT is a free Internet service that lets an interaction with one company's product, for example, your smart phone, Facebook or the Weather Channel; create a result with another company's product. Picture your wireless phone's morning alarm activating an ADT Pulse activated coffee pot.
You can continue to expect the features of wireless home security systems to expand far beyond the traditional concepts of wireless alarms.
If you have adapted to a wireless lifestyle, the only option for your security company is keep up or become obsolete. ADT's primary job is to protect your home and family and provide you the peace of mind that many have lost in a crime filled world. ADT is #1 home security alarm monitoring company and the trusted choice for over 6.5 million families in America. ADT is also #1 in providing you control with mobile devices, hands free options and alliances that keep you in closer contact with your loved ones and possessions than ever before. For more information about wireless home security or wireless security for your business call us at 1-800-310-9490.