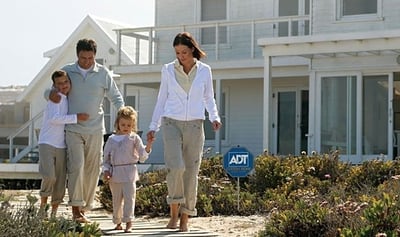 Spring has sprung and for many, it's time to plan a getaway to the vacation home.
Vacation homes are safe havens where we escape the stresses of everyday life and rejuvenate our lives. Whether your vacation home is in the woods, near a lake or right in the middle of a city near loved ones, it's that ideal haven you chose to recharge your battery at.
While planning your trip, thing about adding a security system to your home away from home if you haven't already.
Here's 5 ways an ADT Pulse system will keep your vacation home feeling like a vacation.
Make sure you leave your vacation home well protected when you head back to reality this year. Click below and get a free quote to protect your sacred time away.
A team of professionals is waiting to respond to your Home Security emergencies while you are away.
ADT's central monitoring station network is top notch. With 6 redundant centers filled with people trained to take care of your emergency you are almost over protected 24/7. Monitored Smoke Detectors, Flood Sensors and Carbon Monoxide Sensors catch possible catastrophes as the first signs of an emergency and alert the proper authorities. When you are not on vacation these dangers can wipe out your property or cause thousands of dollars and require countless additional trips to the home that you were not planning on fitting into your busy schedule.
With ADT Pulse, not only will we dispatch the appropriate party, you can set up notifications so that you are in the know every step of the way.
ADT Pulse Cameras provide a live video surveillance feed so you're ALWAYS in the know.
With ADT Pulse cameras, you can check to make sure things are okay 24/7. You can also set up text and/or email alerts to inform you of activity. Would you like to have a 30 second video clip texted to you when someone walks onto the porch? Or possibly that's only necessary at night. You set up the notifications to suit what you want to know.
When setting up your "automations" or actions you would want one device to trigger in another device, you can use your cameras as a trigger. Perhaps you want any motion sensed on a camera to turn the lamp on in the upstairs window. Like all ADT Pulse devices, you can use activity on one device to cause an action on another device.
Remote access with ADT Pulse Deadbolt Locks allows you to let people in.
You might want to have the heater or other system in your vacation home checked out before you arrive. There's no worse start to a vacation that realizing the heater is broken, or worse, leaking poisonous gas into the home on your first night. With ADT Pulse deadbolt locks, you can schedule a spring cleaning, let the maintenance folks in or hire a dog walker for the quick overnight to gramma's you'll be taking in the middle of your vacation.
There is no need to leave them a key that they could easily copy and let themselves back in after you've headed home. Have them give you a ring or a text when they arrive and you can unlock the door and lock it after they leave. You'll also know exactly when they are in your home and when they leave. You might want to check the camera as they leave and assure yourself there's no new TV in the back of their truck.
With ADT Pulse Thermostats, you can take preventative measures against extreme weather.
If you have a vacation home where the temperatures drop below freezing, you'll know that a dip below even 40 degrees in a home can trigger a host of calamities. Or if you live in a humid area, days of high temperatures, high humidity, and double pane windows can be a recipe for disaster. Set your ADT Pulse system to notify you when the temperature drops below or goes above a certain setting.
Knowing it's freezing before it's actually freezing give you the time to have a neighbor pull the forgotten hose off and put it in a shed or wrap and cover the exposed hose bib on the front of the house. You know what they say, an ounce of prevention is worth a pound of cure.
The ADT Pulse thermostats aren't only good for emergencies when you aren't there, it's like free call ahead bed service. You can set the temperature to any setting you like when you start your journey and arrive start your vacation with a home tailored to your exact comfort level.
The ADT Pulse App and personalized Web portal keeps you in the know and in control.
The key to managing your vacation home remotely is the ADT Pulse App and your personalized Web Portal.
Your ADT Pulse portal is available on an in-home computer or a tablet. You have the access to view the complete status of your system in your portal and this is where you will set how your system works for you. You can set up "schedules" or actions that you want to happen at scheduled times. For example having lights turn on and off so it appears you are home when you are not. You can set up "automations" where one device triggers an action in another. For example, locking the front door can automatically trigger the alarm to arm itself. You can also set up alerts so that you system send you text and/or email messages when certain events happen or if they do not happen, For example if the door does not open between noon and 2pm, you might want a text that the dog walker did not come.
Finally, you can set up modes. There might be certain schedules, automations and alerts that you want to happen every time you are out for a jog. You can set up a "Jogging" mode and simply turn on that mode to cause many things to happen in a specific way when you are out for a jog. In the case of a vacation home, you will be happy to know, you can set this up remotely by logging on at your year round home and selecting the vacation property. Then setting things up the way you want them.
It is your choice how much or how little you customize your ADT Pulse system and customers constantly tell us how surprisingly simple set up is, if you can click a button and use a pull down menu, you can customize your system. The system does come set up to automatically text and email to any phone number and email the account in the event of an alarm being triggered.
Your ADT Pulse app can be used on Apple or Android devices such as a smartphone or tablet and is ready to use as soon as you merely set up the login information for your on-line account. Your app provides real time access to your system. See if the system is armed, see if any lights were left on or close the garage door that hubby left open. Your app will also override any preset actions set up in the Web Portal. Say it's been hot so you have the thermostat set to come on at 4pm and cool the house down before you get home. You can use your app to manually turn the thermostat off if the day turns out cool and refreshing. That keeps the dollars in your pocket.
For your vacation home, your app will facilitate all the previous examples. If you receive a text message or email, you can switch to the Pulse app and see live video feed of what is happening. When the technician arrives, you'll use the mobile app to unlock the door and even disarm the security system. When he leaves, you'll arm the system, lock the door and check that cameras that they actually leave your property. When you get the notification that it's headed towards freezing temperatures you'll use the app to set the thermostat to keep the home warm enough to not burst pipes.
Set up a Free Home Security Review today for your vacation home.
Vacation homes are cherished locations that lend you a break from the hecticness of everyday life. Yet most vacation homes sit empty and vulnerable to a host of attacks for most of the year. There's also the threat of burglary because it's vacant. Protect the home you love and your pocketbook from unforeseen disasters with a monitored ADT Pulse system. Look into installing a home security system as one of the first things you do on vacation this year. California Security Pro has figured out how to make it a pleasant and painless experience. Just check out what others clients have to say about us out on Yelp. You can even order a system for your vacation home by phone and have a trusted neighbor meet us for install.
Click below or call us today at 1-800-310-9490 to have a security representative contact you about a new system for you home or to activate and existing system. We can also upgrade many competitors' system as a price lower than going through them to upgrade. Just make sure you're out of your initial obligation to them.