An ADT Home Security System or an ADT Pulse Home Security System provides you the peace of mind you are looking for in today's unsettling world. Peace of mind knowing that there is an extra layer of protection between you and home invasions, abductions, neighborhood burglaries, carbon monoxide poisoning and fire. ADT is the nation's leading provider of easy to use systems, new technologies and world-class protection. By getting an ADT monitored security system installed you may receive an extra discount on your homeowner's insurance. With over 140 years of experience and over seven million protected families in North America, ADT is not only the leading provider of home security, they are the best choice for your family.

ADT Home Security Systems are Easy to Use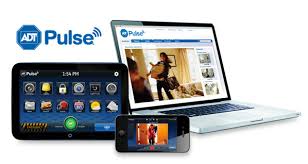 Do you use your current security system? An alarming amount of people don't use their system because it is intimidating and hard to figure out. A home security system is only effective when it's used and you won't use it if it's too complex. During your installation process with us, your technician will guide you through how to use each feature of your system, taking extra care to make sure you feel comfortable using it. Easy one touch command buttons access the monitoring center directly from your digital keypad and your wireless key chain remotes give you, and anyone in your home, the ability to click a button and arm or disarm. Our most popular system, ADT Pulse offers control of your system remotely by any web enabled device. The user interface on your mobile devices is also simple and straight forward using basic commands like arm and disarm and pictures. Simply touch your option and the system confirms it happened.
ADT monitoring with two way voice offers another simple-to-use layer of protection that can also alleviate some stress during an emergency. When your alarm sounds and there is an intrusion, a fire or you've fallen and can't reach the phone, panic might be your only thought. Especially if it's early in the morning or you are home alone. With two way voice a representative will speak to you right from your panel. A calm assuring voice in the midst of unsettling circumstances can give you the edge you need to survive a catastrophe. If you are not home, your uninvited visitors are voice challenged and alerted that authorities are on the way. What could be easier than that?
ADT is Ready for Your Home Security Systems Crisis
Did you invest in a security system to be prepared for life's unexpected emergencies? Of course you did! No one plans to be a victim of a home invasion. However, there are 8000 reported home invasions in North America each year. The number of all property crimes in the Unites States in 2013 was 8,632,512. Here's what ADT's Customer Monitoring Centers (CMCs) do every day as these crimes happen:
The CMCs act on more than 29 million alarm signals each year


93,000+ alarms daily
200,000+ total calls daily (inbound/outbound)
8,000+ customer contacts an hour 24/7

CMCs handle more than 19 million customer calls per year.
Handle 3.3 customer transactions every second.
With the virtual capability of ADT's CMCs, if one monitoring center receives excessive alarm signal traffic or, in a worst-case scenario, becomes nonoperational, all alarm signals are instantaneously routed to another of ADT's six centers.
ADT has six Customer Monitoring Centers strategically located throughout North America, linked to create one virtual nationwide monitoring platform. ADT is truly always there; 24 hours a day, 365 days a year. Trained professionals are waiting to attend to any emergency. ADT's Canopy with Chaperone app let's you take all this protection on the go.
ADT is an Innovator Constantly Changing the way Home Security Works for you
In addition to being a reliable security provider, ADT is changing home security. A prominent mover and shaker in the home security industry. ADT, American District Telegraph at the time, invented the first monitored home security system when the owner's wife woke up to an intruder in her bedroom in 1870. Here's a few things that you might not realize were pioneered by ADT:
Computer based monitoring.
As ADT continues to invest in research of new technologies, they are also establishing relationships that made ADT more readily available to you and makes your ADT system easier and more convenient to use. Here's a few examples:
ADT Pulse and Ford Sync - Ford drivers can take full advantage of the ADT Pulse app and its safety-ensuring features through nothing more than voice commands. By downloading the app to your smart phones, you can connect by simply pressing the SYNC button on their steering wheels and speaking
ADT and Samsung Smart TV's - This partnership allows you to control their security system, cameras, and home automation all from your couch using your TV. You can also control your audio on Airplay with the ADT Pulse app on the Samsung Smart TV.
ADT and Life 360 - The ADT Canopy app has evolved from the partnership with Life 360 which provides you to download to your smart phone and keep tabs on your loved ones. The Chaperone upgrade gives you the option to contact the ADT monitoring center and have a live rep on the line that can dispatch help if necessary or just stay on the line with you when you'd rather not be alone. (hurry while it's in the free trial phase)

ADT and Ideal Life - The two will continue to support the ADT Health platform with real-time health management services. The ability for you or a loved one, as well as caregivers and trusted medical providers, to monitor and track health and wellness considerably differentiates ADT from other home automation and security providers.
ADT and IFTTT - Ifttt (If this, then that) is an app that allows you to have one action cause another action on a completely different platform in your home. For example, if my weather app calls for a heat wave, adjust my thermostat to turn on at 4pm. This could assure a cool home after work without running the A/C all day or on days that it is not needed. With 120 other services and apps to work with, possibilities are endless.

ADT and Southern California Edison (SCE) - SCE customers can get energy management and reporting capabilities through ADT Pulse. ADT Pulse can connect to SCE customers' Edison SmartConnect meters to show home energy consumption, historical energy usage information, daily energy bill estimates and energy savings alerts. These features enable you to easily monitor, understand and adjust your energy consumption and save money on your electric bill.
Look forward to more partnerships that expand the capabilities and convenience of your system. Not only is there no additional cost for most of these benefits, they also make your life easier and some will save you money.
ADT Home Security Systems Help You Save on Your Homeowner's Insurance
Since ADT home security systems are reliable at deterring crime, most home insurance companies give you a discount for having one. You could save up to 20% on your annual homeowner's insurance cost with an ADT monitored home security system! If you are purchasing a new home or shopping homeowner's insurance companies, ask about the discount for a monitored security system and additional discounts for monitored smoke detectors. While discounts vary drastically from one provider to the next, some clients report paying $15 or less a month after factoring in the homeowner's insurance savings.
No matter what drives your decision making process, when selecting a home security system, ADT has got you covered. There is no easier way to use the system, backed by better prepared professionals or a more innovative company to use. If your homeowner's insurance company provides you a great discount, that's some mighty fine icing on the cake.
Call for a Free Home Security Review today at 1-800-310-9490.
Related Video: ADT Pulse Overview: