ADT Pulse is the new standard for home security. With ADT Pulse you have remote access to not only your home security, you have remote access to your home. Your ADT Pulse System is top of the line home automation and security in one system and it rocks. They sure seems to have their finger on the pulse of home security with this one and here are four reasons people love ADT Pulse.
ADT Pulse Gives You the ADT Pulse Personalized Web Portal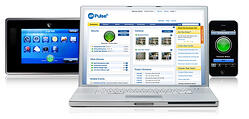 Your ADT Pulse Personalized Web Portal is your on-line command center for your ADT Pulse system. You create an on-line ADT Pulse login that puts the world of home automation at your finger tips. You can set up a realistic Home View floor plan of your home, view your surveillance camera feed, check status and much more. With click-able icons and pull down menus, you'll be setting up automations in no time. Your ADT Pulse login gives you access to:
With these easy to master controls, your ADT Web Portal puts you in control of your home.
ADT Pulse Gives You ADT Apps for Remote Access to Your Home
Take control of your system on the road. Mobile Apps keep you in constant communication with your home and let you control ADT Pulse system with multiple devices. Your same ADT Pulse login from your Web-Portal, works for your ADT Pulse Apps. Use your mobile devices to:
Check and change the status of your security system.
View video footage.
Change modes.
Check lights and small appliance modules and turn on and off if necessary.
Check the temperature and adjust thermostats.
See if doors are locked and lock or unlock.
There's also a myADT.com App to where you can update emergency contacts and billing information and print alarm verification for your home insurance. With MyADT.com and ADT Apps You Are in Complete Control.
With MyADT.com and ADT Apps You Are in Complete Control - See more at: http://www.californiasecuritypro.com/blog/bid/201692/With-MyADT-com-and-ADT-Apps-You-Are-in-Complete-Control#sthash.SNdEXNdr.dpuf
ADT Pulse Cost: It is Very Affordable
The price. Don't you hate it when you are mesmerized by a commercial and then they are vague on the price? We agree with you, its unscrupulous to not divulge prices or worse, to play the bait and switch game. Actually, ADT's pricing is part of why it's so popular.
Your ADT Pulse price is the combination of your up front costs, that can be as low as $199, and your monthly monitoring costs which can be as low as $49.99 with our most popular monitoring package. See a break down of ADT Pulse cost and equipment package options and ADT Monitoring Fees: An Investment in Protecting Your Home and Family or just quick below to get a price quote.
ADT Pulse has the Very Popular ADT Pulse Cameras
"ADT Pulse Camera at Front Door Catches Diaper Thief- Watch Video." Is that not the greatest headline? That was a popular blog post written back in August when a Walnut Creek mother used her ADT Pulse Camera to put a man behind bars. The package was stolen off her front porch, she notified police, posted it on a social media sites and the truck from the video was recognized resulting in an arrest. It's great. It's what every homeowner in the world wants to do after a break-in or robbery... catch the guy!
ADT Pulse cameras are an affordable option for video surveillance. ADT Pulse Camera Systems give you the quality of pricier Surveillance Cameras at a reasonable price. Tied into your security system and automations, you can set the up to run on auto-pilot and even receive text and email alerts when cameras are triggered. These features continue to help homeowners meet the goals of preventing their home from being targeted or at least seeing the culprit behind bars.
Bonus #5 - ADT Pulse Reviews: See What Others are Saying
Any time you make a purchase you want to know what you are investing in. Wouldn't you agree? While I have no doubt that when you see your live demo, ADT Pulse will blow your socks off, but it can be savvy to look at all the details. Will you be able to use the equipment once the technician leaves? Will you get a live human when you call with questions? Can you actually save money on energy costs? And is the sales guy going to disappear after the installation? You want to know, as much as it's possible to predict the future, if this decision will make you proud of your incredible decision making powers or upset. ADT Pulse Reviews help you see what other consumers experienced with ADT Pulse.
Since November 2010, ADT Pulse's popularity has been nothing short of amazing. "To put this into context," said ADT CEO Naren Gursahaney, "if Pulse were an independent company, it would be the fourth largest security company in North America on its own and we achieved all of this in about four years." Read more at CePro.com.
When that many people choose one product and then tell all their friends and give positive feedback on the Internet, it's at least worth checking out for yourself. See what others are saying about their ADT Pulse systems and California Security Pro on Yelp, Angie's List, and Trust Pilot.
Your ADT Pulse system is cutting edge home security with home automation featured built in so your can interact with your system remotely and be in constant connection with your home, while not at home. For more information or to set up your FREE In-Home Security Review, call us at 1-800-310-9490.