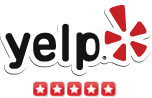 "

He was timely, professional and worked with us to meet our needs.

"
We recently switched our home security system to ADT. Met with

Kyle Madison (925 997-7563)

who was such a pleasure. He is very knowledgeable and helpful.

He was timely, professional and worked with us to meet our needs.

The

installation

process was great as well. Love our new system, it is very user friendly!!!

Yelp Review
"

extremely professional."
We recently decided to get a home security system installed and our neighbors recommended California Security Pro out of San Ramon. We met with Joseph Abeyta, who walked through the house and provided his opinion on the best security system for our situation. Joseph was very easy to work with and provided his honest opinion on what equipment was needed and didn't try to push for additional add-ons that were not necessary. Jessie was our installer and did a very thorough job and was extremely professional. Joseph and Jessie were a pleasure to work with and I would definitely recommend them and California Security Pro for installing home security systems in the East Bay.
Michael K., San Francisco, CA - New homeowner in Danville
My experience with California Security was top-notch. I called and left a message for a service rep to call me back and Jarrettcalled within 10 minutes. I have needed to call him several times for various reasons throughout the process and he picks up his phone early in the morning and late at night. He is amazing and was always ready to help when I needed him. I feel so lucky to have been connected with him as it has made the process of getting a security system installed a piece of cake. Highly recommend this vendor. Ask for Jarrett and you will have a terrific experience.
Yelp Review
"Very happy."
We were very happy with the installer Micah, he installed the whole system very efficiently.
Greg and Michael were very honest and efficient.
Soma C.,Danville, CA

"Huge peace of mind."
Kyle took great care of us, going through the details thoroughly when we were looking into getting ADT, followed up diligently without hounding us, and made sure we had everything we needed. He even hand delivered stickers and signs when they didn't arrive as soon as we had hoped. The installation was quick and easy, and our installer, Hector, was very professional and friendly. We've had one "false alarm" when I accidentally pressed the panic button, and ADT called immediately to check in. Everything has worked exactly as it's supposed to and after about two months of having our security system I can say that we are extremely happy! It brings us huge peace of mind. Thanks, Kyle!
Alicia W.,Danville, CA

"You won't be disappointed."
If you are looking for a home security system, please call California Security Pro. I originally was going to install a do-it-yourself system but did not feel secure enough with me being the only one monitoring my home. I checked out all of the different companies and California Security Pro seemed to be the most consistent and reliable and they are an ADT authorized dealer, plus they are close to my home and had the highest Yelp reviews. I can now see why their reviews are high. Brad Lorentzen, their area representative, showed up on time and took the time to show me all of the different system packages and features that the ADT system offers. He also spent a lot of time assessing my home and giving me many tips on how to secure my home in other ways in addition to a security system. Once I decided on which package I wanted to go with, it was easy to set up a date and time for installation. They work really hard to accommodate you and work around your schedule. The installer, Micah, was very knowledgeable about the system and was very personable and patient in showing me how to operate it. With my system I can activate and disarm from my cell phone. It is so easy to operate and I now once again feel safe in my home. I am extremely pleased with my security system and highly recommend calling California Security Pro. You won't be disappointed.
Kimberly L.,Danville, CA

Very cost effective and quick installation."
Kyle and his team did an awesome job. Very cost effective and quick installation, which helped put our minds at ease. Kyle and his team have also secured 4 of our neighbors homes which helps us all in the long run. Would highly recommend them to anyone looking for a great security system.
Jason B.,Danville, CA

"Team showed up on time and addressed all our questions."
Brad Lorentzen stopped by after a burglary in our neighborhood. He explained the ADT offerings, which we found to be compelling, so we decided to move forward to cancel our existing service with First Alarm and move to ADT. When it came time for install the team showed up on time and addressed all our questions about conversion. We had 1 update to install after the initial install and Brad was right on it as was the install team. No reservations about recommending Brad and his team. Jeff
Jeff E.,Danville, CA

"Very responsive and a true pro."
Brandon provided a security system for my Niece's home in Oakland and we decided to contact Brandon and see what he could do for us. He was very responsive and a true pro. I had shopped around so I had prices from other companies which he matched. There are also coupons from mailers and emails and if you use these you have a better chance to get the best price for your system. Brandon came out to the house the day of the installation and made sure that we were happy with the product and service. I would highly recommend him to our friends. Pat performed the installation and did a fantastic job. He was very neat, cleaned up after himself and worked with us to find the best locations for all the components. Everything worked great and we really like that we can use our IPhone to monitor and arm/disarm the system. So far so good. We are both very pleased with ADT and California Security Pro. Thanks guys!
William B.,Danville, CA

"Accommodate my urgent need."
After a lot of activity in Danville, we decided to get an alarm. Where do you start? I knew we wanted to be monitored, but had no idea what the cost might be or how to go about it smartly. Our neighborhood has a website we all post info on. I saw that ADT in San Ramon (California Security Pro) was highly recommended with a discount. We had them come out and Joe Abeyta was very professional. He exceeded our expectations, and sold us exacted what we needed, there was no up-sell or pushy constraints. There were good suggestions made regarding security in general, and we are very happy with the service. Joe juggled his schedule to accommodate my urgent need, and Pat Amtrone was our installer. Pat Came the very next day to install, which was fantastic! Even after a full day, Pat took the time to show me how to use the alarm, and helped me set it up on my phone, and my husband's phone. Honestly if you are considering an alarm, I would highly recommend speaking to Joe Abeyta at California Security Pro- ADT dealer.
sonja t.,Danville, CA
"I would definitely recommend to anyone who is on the market to buy or upgrade security system."
I called 800 number Saturday; Jarrett came Monday evening (on time!); we had the system installed and running by the end of Tuesday! Both, Jarrett, the rep and Rene, the installer were extremely polite and very professional. I would definitely recommend to anyone who is on the market to buy or upgrade security system in their home or business to check California Security Pro. Definitely Pros!!!
Julia H., Danville, CA

"Thank you Ca Security Pro for your amazing business. Your 5 star rating doesn't lie!"
Cant say I went wrong with this one! After reading the Yelp reviews, I was definitely interested in getting a quote for a new alarm system. I gave CA Security Pro a call after business hours on a Sunday. Imagine my surprise when I received a call back shortly that same evening. I had the great pleasure of speaking with Marissa. It was so effortless working with her. Emphasis on "working with" - because it wasn't about pushing products on me to make a sale (like it was with the other ADT dealers I spoke with). The vibe was so much different with Marissa; never once did I feel pressured or forced to buy anything. In fact, she made the effort to understand my living situation, needs, and preferences and presented me with options that were very flexible. She really went above and beyond to make sure I was getting exactly what I wanted for a price I could afford. I could not be happier with the end result.

Usually when companies give you a window for an appointment, you could be waiting an hour or two or three. Pat and Micah came to do the install - these guys were on the dot on time! Very impressive. They were very professional. I told them they didn't have to wear the shoe covers in the house, and they did anyway. Both Pat and Micah were informative, told me everything they were going to do beforehand. They asked for my input on placement of the equipment and offered their expert opinions. Before they left, the made sure I knew how to operate the unit and answered all my questions. These guys were really friendly and funny and it was a pleasure working with them both.

I have to say, I'm so very impressed with the level of customer service this company provides. They blow the competition out of the water. I've had my system for a couple weeks now and it's working great. The peace of mind alone is priceless. I received a follow up call from Marissa to make sure everything was running smoothly (this girl works non stop!) If only this company was like a Starbucks where I could come back every day for their service... I'd be a regular!

Thank you Ca Security Pro for your amazing business. Your 5 star rating doesn't lie!

Lea M., Danville, CA

5 stars for Micah and Jarrett. Jarrett was down to earth and knowledgeable. Micah did a great job with the install and was great to work with.
Mike L., Danville, CA

I needed to have an alarm installed in my home and a friend recommended California Sec. Pro - ADT in San Ramon. The service was great from the first time I contacted Marissa Esguerra to the installation by Patrick, and the follow-up to make sure everything was working fine. They were very clear in explaining the choices and were very customer focused.

We are proud to service Angie's List customers and we thank those who took the time to let others know about us! Angie's List is a membership service that compiles consumer ratings of local service companies and contractors. Take a look at what members are saying about us:

"Excellent job ."
Provider installed a complete alarm system with motion detectors, smoke and heat detector as well as window and door sensors. Pat was the installer and did an excellent job. He called before he arrived, was neat and very professional with all the work he did. He showed us how to use the system and we felt confident that we knew what we were doing. We had a 48 hour play period where we could use the system and play with it so that we can became familiar with how it worked before it went live with the monitoring program. I would recommend this. The ADT Pulse feature allows you to add this to your smart phone so you can monitor as well as arm and disarm the system vs the keypad nice feature. Brandon Thomas was the rep that called on us and he is a pro! I would highly recommend him and he is a great guy. ADT is lucky to have him. He sold us on the program, the features and benefits, and matched the prices of the equipment from other companies as long as you have it in writing. Look for coupons in the mail or email so that you can get the best prices and packages of features and options as this allows him to give you the best discounts. The security panel does require a 110V connection so you may lose one of your outlets to power the unit. Having the smoke and heat detector provided the biggest reduction in our house insurance policy vs. the basic alarm package.
So far so good with the system.
William Browne,Danville, CA